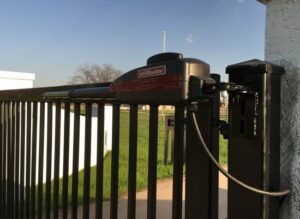 In the US, a burglary occurs every 22.6 seconds. For businesses, a break-in can result in serious property damage, loss of valuable merchandise, and costly downtime.
One of the best ways to protect your commercial facility is to install a heavy-duty security gate. Having outdated, broken, or a complete lack of gates makes your facility an easy target for burglars, vandals, trespassers, and other intruders.
Here are several factors to consider when shopping for the right security gate:
Mode of Operation: Manual vs. Automated
Manual gates are often more affordable and easier to maintain than electric systems. They also don't rely on power, meaning you don't have to worry about access when electricity is out.
Because someone always has to be present to operate the gate, manual gates can be slow and labor-intensive.
Electric security gates are designed for convenience. This is why they're perfect for facilities with high volumes of people or vehicles entering and exiting at all hours of the day.
Electric gates are operated using a press of a button, a remote control, or a computer command. They help save time, reduce staffing requirements, and boost productivity.
They can, however, cost more than manual systems. You'll also have to comply with the manufacturer's maintenance guidelines.
Design and Configuration
Aside from deciding between a manual and automatic system, it's also wise to consider the different designs and configurations available. Each type offers unique applications and advantages.
Sliding Gates – Commonly used on driveways, this type of gate has rollers at the bottom to facilitate sliding.
Swinging Gates – These open by swinging to the left or right, and they are attached to the wall using hinges.
Scissor Gates – These are folded to allow entry and stretched to provide a lockable barrier. Scissor gates are perfect for situations where compact and secure access is a priority, but visibility and ventilation are necessary.
Vertical Lift Gates – These are widely used in storefront doors and warehouse entry points. The gate slides up to allow access and rolls back down to close.
Access Mechanism
Access mechanisms have become sophisticated over the years. You can choose from:
Key Cards – They are swiped to gain access to the gate. These are often used in automated parking lots.
Biometric Security Systems –  Facial recognition and fingerprint scanners are used to identify people quickly and allow access. These are ideal for the high-security areas of a commercial facility.
Phone Entry And Remote Control – This option allows entry using a smartphone or a special remote control.
Commercial Gates Power Source
If you decide to go with an automated gate, you'll have to pick a source of power. Of course, you can always rely on electricity that powers the rest of your property. But if you want a cheaper and more environmentally friendly power source, then you should consider solar power.
Safeguard Your Property with High Quality Commercial Gates
4 Sure Gates does all types of commercial gate installation projects. We install sliding and swing gates that help heighten security and increase the curb appeal of your property. Our team is available around the clock, and we'll be happy to help you choose the right gate type and design for your facility.