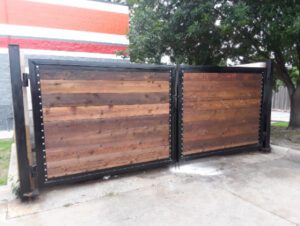 Almost all commercial establishments have gates, but are they strong and secure enough to protect your business? With a greater focus on online security, many companies are taking their physical security for granted, investing in subpar gates that might not deliver the security they need.
4 Sure Gates advocates investing in a proper commercial gate — one that's suited to the level of security you need and the traffic flow of people and vehicles that enter your premises. While it entails a higher upfront cost, a robust commercial gate will deliver more savings and more assurances of security.
Here are five reasons you should invest in a proper security gate system for your commercial property.
1. Heightened Security
In Texas, property crime is one of the crimes that people fear the most, and for a good reason; property crime accounts for 85% of all crimes reported by Texas law enforcement agents to the FBI. Larceny-theft is the most common, making up 72% of all incidents. Burglary, meanwhile, accounts for 16% of property crime.
These figures show that physical security should not be overlooked, and the threat of property crime is real.
Secure your perimeter with a commercial automatic gate system. Unlike manual gates with locks that can be picked or cut, automatic gates are more difficult to breach. In fact, the presence of an automatic gate alone may deter would-be burglars or vandals. Many property crimes, after all, are opportunistic in nature. And a strong commercial gate leaves only a tiny window of opportunity for criminals.
2. Better Access Control
Many commercial gates come with access control systems that help you manage the flow of people and restrict unauthorized entry. 
Physical security breaches could lead to a huge financial loss for the company. People usually gain unauthorized entry through tailgating (following someone with authorized access before the gate or door closes) and weak gates that they can easily break.
Perimeter security is your first line of defense against physical breaches. If you have a reliable gate access control system in place, you minimize the risk of unauthorized access.
3. Improved Privacy
Commercial security gates block out the view of outsiders, leaving you to conduct operations without any onlookers. Depending on their design, gates could either partially cover your premises or completely hide them from view.
Regardless of your industry or business, your property should have some level of privacy.
Even if you don't work in a competitive field, it pays to protect your premises and employees from prying eyes.
4. Better Curb Appeal
Every business wants to project an image of trustworthiness and professionalism…but a flimsy fence won't inspire confidence in investors and stakeholders. 
In contrast, a sturdy, imposing, commercial gate — whether it's a rolling or swing gate — shows that you take the security of your employees and assets seriously.
Plus, a gate with the right design will enhance the appearance of your premises. And you have an abundance of choices when it comes to gate sizes, shapes, colors, and finishes.
5. Bigger Savings
Commercial gates save you resources. For instance, keypads and fingerprint recognition systems reduce the need for manpower. The same goes for vehicle recognition systems; no need to hire employees whose sole job is to allow cars entry. You have an efficient system to do that for you!
In addition, commercial security gate systems guard you against the potential losses from burglary and theft.
Any way you look at it, your business will greatly benefit from a proper commercial gate. If you want to explore gate options for your company, contact 4 Sure Gates. We'll help you determine the commercial gate system that's right for you!