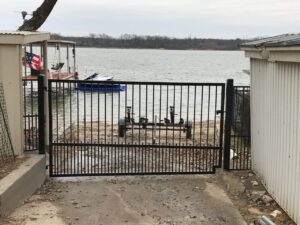 Sometimes your gate's issues are simple and can easily be fixed on your own, while others may require professional repair. If you're having issues with your gate, try to remember that this doesn't mean it is completely broken, it just needs to be serviced.
Some gate issues will be simple non-electrical problems like remote control or connectivity issues, while others may be directly related to your gate's automatic power functions.
If you're wondering what to do when your automatic gate breaks down, the 4 Sure Gates team is here to help. Keep reading to learn everything you should know (and check) when your automatic driveway gate breaks down!
Common Non-Electrical Issues
If you're experiencing some issues that aren't electrical-related, there could be a physical obstruction or something wrong with the wheels and track.
To determine whether or not the problem is electrical, shut off all power to your gate and try to move the gate by hand. Check for anything that could be blocking the gate, and take a close look at the wheels to see if the wheels are still on the track and if the chain is intact.
If your gate is near a garden or similar area with rougher terrain, rocks can easily get stuck in the gate's moving parts or have the wheels dislodge from the track if a rock gets stuck.
If your gate has a remote control, and you're noticing issues with it responding to the remote's commands, you may just need new remote control batteries. Try replacing the batteries, and contact a trusted gate servicer if the problem persists.
Common Electrical Issues
If you've ruled out any physical or non-electrical issues, you might have an issue with one our your gate's electrical parts.
If you experienced a power outage or a major storm that caused powerline damage, the solution could be as simple as turning your gate's access control back on.
On some gate control panels, there are lit-up icons or indicators that can help you determine the root of the issue. If there is no icon or indicator light to help, the first thing you should try is resetting the power. Unplug every power source connected to your gate — a full reset is sometimes the only thing your gate needs.
The following things you should check are any cameras or motion sensors on your gate opener. If something obstructs the camera's view, your gate will not open, so make sure nothing is blocking the camera or motion sensor.
One electrical aspect that may need service is the gate's exit probe. The exit probe is underground and senses your car when you enter or leave your property. If you've tried troubleshooting everything else, you may want to call a gate professional, as exit-probe issues require expert assistance.
Other Common Gate Issues
The Effects of Bad Weather
If you experience sudden low temperatures, your gate's metal components may start to contract, making it harder to open and close.
To prevent this, you can try installing styrofoam insulation and adding it to the sides and bottom and sides of the gate opener. Just make sure not to apply any styrofoam on the top of the battery!
Issues Opening Your Gate
If you have a swinging gate that won't open, your driveway might be the issue — the door may not be able to open correctly because it's hitting the ground. You will need to have the gate higher off the ground or swing the door the other way.
Also, the gate will not open if the safety loop sensor is triggered. Check if something is in front of the sensor — if nothing prevents the gate from moving, call a gate technician to come and assess it.
For All of Your Gate Repair Needs, Call The Experts at 4 Sure Gates
With more than 15 years of experience repairing and installing gates, the 4 Sure Gates team provides only the best gate design, repair, and installation services.
Get in touch with our team for a free project estimate — whether you need service on your gate, gate opener, or access control system, we can help!