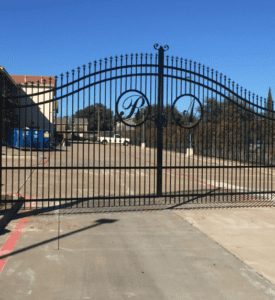 If you neglect your automatic gate's safety and maintenance, you could face serious financial and legal repercussions. Minor issues can become more severe over time, meaning they'll be more expensive to repair later. If your gate malfunctions due to negligence and injures someone, you may face a personal injury claim.
Ensure your automatic gate's strength and safety with our checklist.
Automatic Gate Tune-Up Checklist
With regular inspections and maintenance, you can prevent or spot issues with your automated gate system earlier. This will help you save a lot more money in the long run, and it allows you to make the most of your current automatic gate operator before needing to replace it. It should last at least 10 years.
Schedule a yearly check-up, especially if you have a wooden gate, as their finishes wear down faster. Keeping a wooden gate's finish in good condition is critical for preventing water damage.
Your automatic gate tune-up checklist should include the items below, depending on whether or not your type of gate has the relevant part.
Check these parts for sufficient greased or lubed:
Bearings and chains inside the operator panel
Rollers or wheels that support the gate
Drive chain
Truck assembly
Limit switch shaft
Gearboxes
See if these parts need their paint and finishes redone:
Pickets
Framework
Hinges, latches, and receivers
You may need to have these parts tightened:
Truck assembly studs
Brake assembly
Lower and upper rollers
Chain tension
Pulleys in the operator panel
Operator panel bolts
Pickets (if bolted to the gate)
Device mounting (gate operators, photo eyes, and other safety devices)
Additionally, you may need to have these parts replaced:
Keypads
Clutch pads
Batteries in wireless keypads
Gate timer
Wireless transmitters
Of course, any of the other parts may need to be replaced as well if they're severely damaged.
Automatic Gate Legal Safety Requirements Checklist
To ensure your gate is compliant with safety regulations, make sure it meets the following requirements:
Your gate has the minimum number of entrapment protection devices (this depends on the type of gate, but the minimum is 2 for each direction of travel for most).
Entrapment protection devices are installed where there are entrapment hazards.
Warning signs are visible from each side of the gate.
The gate cannot come into contact with the controls and a person using them.
The gate operator is appropriate for the type of gate and its construction (such as whether or not it's strong enough to hold the gate's weight).
The rollers are covered.
Pinch point hazards are eliminated or covered.
There are no protrusions at the bottom of the gate.
Your gate must have fall-over protection.
Signs You Need a Repair or Replacement for Your Automatic Gate
Parts of your automatic gate will eventually deteriorate no matter how well you care for them. Look out for these signs that you need a repair or replacement:
Your gate makes loud screeching, rattling, or banging noises.
Your gate doesn't fully close or open.
The roller tracks are misaligned.
Your gate opens and closes on its own.
The sensors are failing.
The Best Automatic Gate Repairs in Dallas and Fort Worth
If you notice your automatic gate is damaged or has worn down parts, have 4 Sure Gates work on it immediately. Ensure your gate's durability and safety with our automatic gate repair services.
Call us at (817) 965-7873 to get a free estimate.