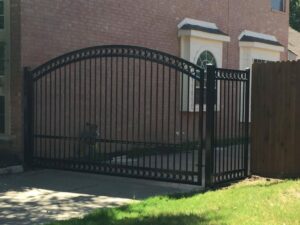 Automatic gates offer better safety and convenience by allowing you to better control who goes in and out of your property. They are also great for sloped driveways since the slope might make it difficult to manually open a gate. Certain designs also work well with driveways that have limited space for gates to open to.
However, you might have been told that an automatic swing gate or sliding gate would not be possible for your driveway due to its slope. The truth is both types can be used regardless. The base design just needs some adjustments.
Here are your options for automatic gates on sloped driveways:
1. Swing Gates
You've probably seen a swing gate before since it's the most common type. Swing gates open by swinging inward, away from the road.
Swing Gate Angled to a Slope Across the Driveway
Fitting a swing gate to a slope across the driveway is simple. The bottom of the gate just needs to be angled to follow the slope, and it will be able to operate as usual. The top of the gate can be angled or level so that it follows the fence line.
When the Driveway Slopes Up from the Road
If your driveway slopes up, you can simply use a gate with a higher bottom if the slope is not that steep. If the slope is steep, you can use a rising swing gate. Rising swing gates open inward and upward using a custom-made mounting bracket.
2. Sliding Gates
Sliding gates open by sliding sideways towards the fence.
Like swing gates, sliding gates just need bottoms angled to a slope if the slope goes across the driveway. An automatic sliding gate on a slope generally needs a larger motor since it lifts part of the gate's weight.
Sliding gates can open uphill or downhill and can have level or angled tops to suit the fence line. Sliding gates with level tops need a guide rail that moves up and down as the gate opens and closes.
3. Telescopic Gates
Telescopic gates are sliding gates made up of two or more panels that stack in front of each other. These are great for when there is limited space for a gate to open towards. Other than that, they are mostly similar to sliding gates.
When The Ground Slopes Up or Down from the Driveway
If the ground slopes up from the driveway, restricting the gate's movement, the ground will need to be excavated, and a retaining wall will have to be added for the gate. If the slope is steep, a telescopic gate may be used to minimize excavation.
If the ground slopes down, a sliding or telescopic gate will need a metal footing. Again, a telescopic gate can be used on steep slopes to minimize the size of the metal footing.
Talk to the Professional Gate Installers of 4 Sure Gates
Just because you have a sloped driveway doesn't mean you can't enjoy the benefits of an automatic gate. 4 Sure Gates has been the top choice for gate installation services in the Dallas-Fort Worth area since 2005, and we would be more than happy to recommend the best design for your driveway.
Contact us today at (817) 965-7873 for a free consultation.