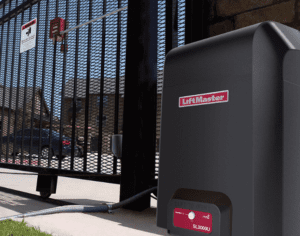 An automated sliding gate also referred to as an automatic or rolling gate, is an increasingly popular choice among homeowners. This type of gate has two wheels fitted on the bottom that run along a metal track. Unlike conventional swing gates that, true to their name, swing open, an automated sliding gate slides along the track to open or close. 
Automated sliding gates are convenient. With an automated sliding gate, you won't have to get out of your vehicle to open or close the gate. This is a feature that you'll definitely appreciate during rainy or snowy weather. 
Automatic sliding gates are an excellent investment for many other reasons. If you're on the fence about having one installed on your property, here are five benefits that might help you with your decision. 
1. Automatic Sliding Gates Help Improve Home Privacy
Installed in a perimeter fence, a solid automated sliding gate helps keep your property away from the view of passers-by and neighbors. You won't have to worry about unsavory characters seeing your valuables, whether it's new patio furniture or a collection of luxury vehicles. 
2. Automatic Sliding Gates Increase Security
An automated sliding gate allows you to control who gets to enter your property. It will prevent people from manually entering the premises. 
Automated sliding gates are also more resilient to physical force than swing gates, making manual intrusion—such as by ramming it with a vehicle—unlikely to be successful. To make them even more secure, you can have a magnetic lock installed. A good-quality magnetic lock can withstand a holding force of at least 1,500 lb. 
3. Automatic Sliding Gates Improve Safety
An automated sliding gate is a great option for families with children and pets. It will help prevent them from wandering outside. Additionally, it will help keep out animals and unscrupulous individuals that may want to harm your loved ones. 
4. Automatic Sliding Gates Increase Curb Appeal
Curb appeal refers to how attractive your home looks to a person viewing it from the curb or the sidewalk. Improving curb appeal is especially important if you plan on selling your home in the future. Prospective buyers are more likely to want to look inside your home if the exterior is attractive. 
Even if you don't plan to sell your home, having an automated sliding gate installed is still an excellent way to add a "wow" factor to your property. A professionally installed automated sliding gate in an attractive design creates a positive first impression on visitors and passers-by. 
5. Automatic Sliding Gates Are Space-Saving
Because of the mechanism of automated sliding gates, they are ideal for smaller properties or homes with short driveways. A sliding gate doesn't occupy too much space when open, making it easy to park your car or back up from your driveway without hitting the gate.
Have Your Automatic Sliding Gate Installed by 4 Sure Gates
Since 2005, 4 Sure Gates has provided quality gate installation services to homeowners throughout the Dallas-Fort Worth metroplex. With more than 15 years of experience, our team can assist you with the professional and efficient installation of your automated driveway gate. 
Reach out to us today at (817) 965-7873 for a free consultation.