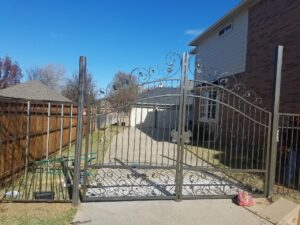 In the US, the nationwide rate of property crime fell from 2,025 cases per 100,000 of the population in 2020 to 1,933 cases per 100,000 of the population in 2021. Homes with proper gates and fences help deter unwanted visitors from committing common property crimes, including burglary, vehicle theft, and vandalism.
Property owners can visit their local gate repair company and discuss property security solutions that fit their needs. But if you're unsure how much you should spend on a sturdy gate, we've rounded up some valuable tips and budget insights so you can get that gate project started without breaking the bank.
Planning Your Budget for the Right Gate
Creating a budget for the right gate involves several factors that you must consider carefully. Here is a guide to help you create a budget to ensure you get the right gate for your needs.
1. Decide what you need in a gate.
The first step to creating a budget for the right gate is knowing what you need in a gate. This includes the type of gate you want, the size, and the materials. For example, you may want a swing or sliding gate, and you may prefer a metal or wooden gate.
2. Consider automatic gates or additional features.
Installing an automatic gate will add to the overall cost of the project. You must budget for the gate operator, remote controls, and additional accessories or safety features. You must also factor in the installation cost for the automation components or other features.
3. Prepare your finances.
Once you know your gate needs and whether or not you want an automatic gate, you can determine your budget. Your budget should be realistic and include all the costs associated with your gate, including installation, automation, and any additional features or accessories you may want.
4. Get multiple quotes.
Get multiple quotes from different gate installers to ensure a fair price for your gate. This will help you compare prices and ensure you are getting the best value for your money. Don't forget to ask for a breakdown of costs so you can see exactly what you are paying for.
5. Consider maintenance and repair costs.
Gates require regular maintenance to ensure they continue functioning properly and to extend their lifespan. Additionally, you must budget for potential costs associated with gate damage or repairs.
6. Think about the long-term.
When creating a budget for the right gate, thinking about the long-term is essential. While a cheaper gate may seem like a good option in the short term, it may cost you more in the long run if it requires frequent repairs or replacement. Invest in a high-quality gate that will last for many years to come.
Trust Our Gate Repair Company for Your Gate Needs
Investing in a durable gate provides long-lasting functionality that enhances your property's aesthetic appeal and overall value. Considering several cost factors, such as the material, labor, and design, can help you find the gate that fits your privacy needs and budget. Contact 4 Sure Gates and get a free estimate today.