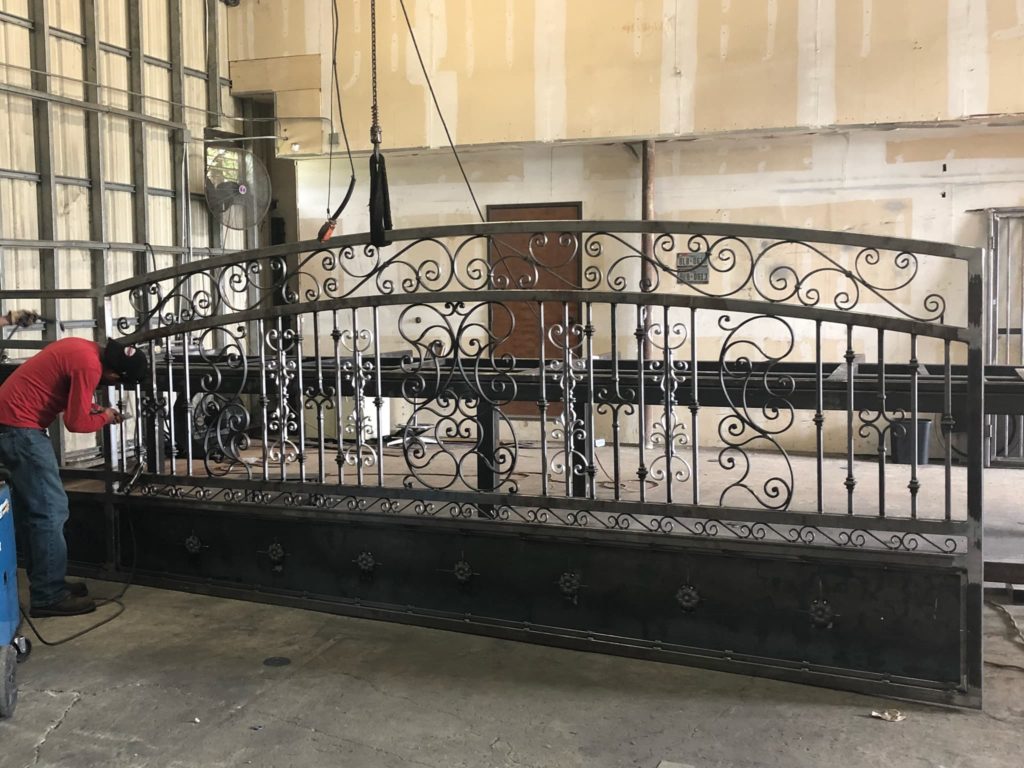 If you're thinking of improving your property's entrance and front-yard elements, now is the best time to do it. After all, spring brings everyone out of hibernation—especially after Texas' freezing winter—so you can expect visitors or neighbors to drop by.
One way you can do this is to upgrade your weathered gate to a fancy-looking one, like wrought iron. You can choose various materials to raise your front gate's aesthetic appeal, but you can never go wrong with wrought iron. Here's what you need to know about this gate material and why it's a perfect choice for your gate upgrade.
What Makes Wrought Iron Special?
Wrought iron is a malleable form of iron that's forged rather than cast. Unlike most iron components, it's not poured into a mold and left to cool. It's worked into its form using a hammer while it's hot. The longer it's forged, the stronger and tenser it gets.
Wrought iron is purer than cast iron, with only one to two percent slag (the by-product of separating iron from its raw ore). It also has lower carbon content than cast iron. These attributes make wrought iron stronger and more resistant to corrosion than steel and other metal materials. This strength has made it a popular material for many rugged products, including railings, nails, and gates.
Benefits of a Wrought Iron Gate
Easy to Maintain
 It's no secret that wrought iron is much more expensive to buy and install than steel and cast iron. According to HomeAdvisor, the national average cost of a wrought iron gate installation is around $2,700. However, that's the only major expense you will have for a while because the gate is a breeze to maintain. With a common wire brush and water, you can wash off the dirt build-up on your gate, and that's it.
On the other hand, a steel gate needs to be washed with a mixture of soap and baking soda and fully rinsed before leaving to dry to bring back its shine. 
If your gate is painted and the paint starts to chip, it's fairly easy to repaint it. If it gets damaged, a skilled wrought iron repair professional can easily fix it without you needing to buy a new gate. It's ideal for homeowners on a budget and who don't want to waste money and materials.
Multiple Design Options
Wrought iron is easy to mold and bends into any shape. If you have a custom design in mind, your gate designer can create it. You can let your imagination run wild with shapes and forms that are distinct to your property – even your own initials. Your designer can make them all come true without sacrificing your gate's structural integrity and durability.
If you don't want to create your own design, no problem. Every gate contractor has its standard designs. Ask for a catalog and choose the best design for your home and neighborhood. 
The craftsmanship that goes into wrought iron gates is unmatched. It takes a skilled and experienced forger to create beautiful works of art that also serve as deterrents to trespassers. Whether your home has a contemporary or rustic design, this type of gate will look perfect with it.
Improves a Home's Curb Appeal
Curb appeal has a higher objective than just making your home look beautiful from the road. It also makes your home more attractive to a buyer when the time comes that you're ready to sell.
A Michigan State University study found that improving curb appeal, specifically the landscape design and other front elements, increases a home's perceived value by 5% to 11%. With the elegance and classic look of wrought iron, you can make your home stand out like a beautiful piece of art in the property market.
If you're going to spend money on your gate, you might as well make sure that it's made from a reliable and beautiful material. A wrought-iron gate will enhance your home design while reinforcing the security of your property.
Get Your Wrought Iron Gate Professionally Installed
4 Sure Gates has been providing gate design, installation, maintenance, and repair services for more than a decade to Dallas and Fort Worth homeowners and business owners. If you need a contractor for your gate improvement project, we'll be happy to work with you.
Call us today to discuss your ideas and get a free estimate.