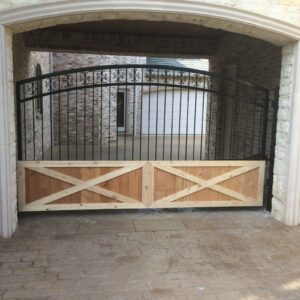 If you have a preferred gate design in mind and are considering getting a professional gate installation company to handle your gate issues, kudos! You are one of the hundreds of homeowners that want to avoid risking a half-done job or tackling the problem themselves and ending up with a mess instead of a new gate.
For those still on the fence, join us as we list some key reasons you should hire a professional gate installation company.
Nobody Does the Work Better Than the People Trained To Do It
To many homeowners, the most important consideration for maintenance and repair issues is whether to leave them to professionals. Even if you have a friend of a friend who can do it for you, chances are you'll end up paying extra to fix the issues the "handyman" left behind.
In all seriousness, gate installation companies exist for a reason – they possess the knowledge and experience necessary to handle the job's intricacies and address any issues that may arise. Installing a residential or commercial gate requires expertise and attention to detail. Professional technicians approach tasks confidently. They won't assume the problem but know exactly how to deliver a resolution.
When you let professionals install your gate, you practically ensure the functionality, safety, and longevity of the gate you've chosen.
The Work That Gate Installation Pros Do Is Warrantied
Another great advantage of having professionals install your gate is getting a warranty for the service. This is an excellent service add-on to have in case the gate requires a touchup or malfunctions in any way.
Having some peace of mind knowing that your newly installed gate will be taken care of in case of repairs and replacements is a genuinely priceless feeling. Homeowners and commercial estate managers that prefer a warranty over a quick fix will always choose gate installation professionals to do the job.
Pros Respect Deadlines
When it comes to getting things done promptly, you can rely on gate installation pros to do a seamless job. This is especially relevant to homeowners or estate managers that require their gates to be installed by a tight deadline.
Forget about wrecking your mind thinking about whether your gate installation will be on time or whether you should expect yet another deadline extension. Professional gate installation experts will respect the timeframe you provide and inform you of the duration of the process before you even ask about it.
4 Sure Gates: We Are the Gate Installation Experts You Need, For Sure!
Are you looking for a stunning gate design but can't find one? Welcome to 4Sure Gates, where great gate designs, gate repair services, and professional gate installation exist. Our experienced team of dedicated professionals knows how to address all gate issues and establish a process timeline you'll be happy with.
Choose one of our designs for your gate, or let us know what you have in mind; we'll ensure you leave our office content. With our 15 years of experience, we can make all your dreams a reality.
For any questions, feel free to contact us – we're happy to answer all your inquiries.