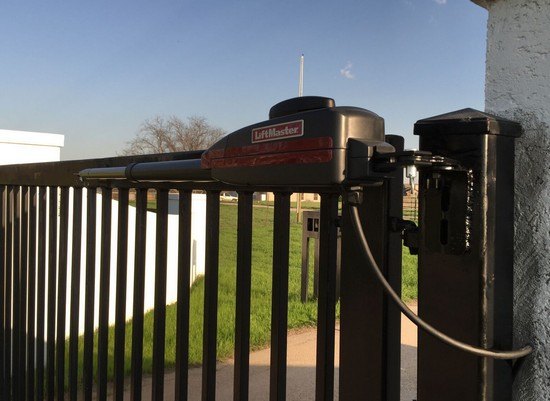 Your property may be at risk. The United States of America lost $15.8 billion from property crimes in 2019. Fortunately, you can increase your home security in different ways. 
You could try setting up motion-activated lights or buy a better window lock. Or you can start working on strengthening your security from further out with an automatic gate opener. The right driveway security gate adds more privacy and increases your curb appeal, too. 
However, you need to consider a few things before you incorporate this into your home to make sure you pick the right one.
Slide Gate
Using a cog and teeth action, this type lets you open your gate toward the left or right direction. This type of opener requires guide tracks, a cantilever, and rollers to function. It is subject to blockage by ice, debris, and friction. 
Swing Gate
This opener swings at a 90-degree arc. Users have the option to swing their gate either inward or outward. It is a common option for people looking for something easy to install and cost-efficient. Be mindful of this opener because it works better in spacious environments. Installation of this gate in a narrow area may inconvenience people or damage objects as they pass through. 
Cantilever Gate
Cantilevers function similarly to slide openers, except they do not have wheels. Instead, this gate is suspended a few inches above the ground with a counterbalance that must be at least half of the entrance's width. It requires more width to provide balance to the gate. 
Vertical Pivot Gate
This opener rotates the gate to create a vertical opening at a 90-degree angle from a horizontal position. It is space-efficient, lessening the risk of people getting hit. This option is also resistant to issues brought by snow. You want to ensure that you provide a stable footing for the mechanism as the operator needs support. 
After familiarizing yourself with the common gate openers, the next step is to choose one that will work best for you.
What Do You Need to Consider When Buying a Gate Opener?
Sufficient Space

– To set up an automatic gate, you need ample space. Some gate openers need at least 20 feet of free area to function. 

Type of Power Supply

– Do you want to operate it using solar, AC, or battery power? However, some manufacturers design openers with more than one power source to give users the option to choose.

Frequency of Use

– For households, the standard opener will work just fine. However, establishments with high traffic like factories may need to look at more powerful and industrial units made of sturdy material.

Added Feature

– You can prevent injuries and property destruction with a door opener that stops when it is about to hit something, be it an object or a person. 

The Type of Entry

– Some of the most common entry options are as follows:

Telephone entry

– People who wish to enter the premises need to communicate with the people inside through phone. It also gives you the option to set a code to open the door when no one else is home to open the gate for you. 

Remote entry

– This is a standard method for automatic gates. It lets you in using a remote control to open the gate. This is an option for people who live alone. However, losing your remote may leave you with no other way to signal your gate opener. 

Card entry

– This method requires people to carry a card with a dedicated chip. It is often tapped onto or swiped into the machine for the gate to open. The drawback to this is that the key card may be stolen or even duplicated. 
Tip: Make sure to position the control panel far from the entry. Placing the controls far from outsider reach should be the primary concern of effective automatic driveway gate ideas. This will prevent people from accessing or even destroying your gate's settings.
The right gate isn't just about specs, but how well it will serve you in your daily life. You can better evaluate the gate openers on your list by conducting a Threat and Risk Assessment. Being critical with selecting each opener option, its limitations and your home add a layer of safety to your home or establishment.