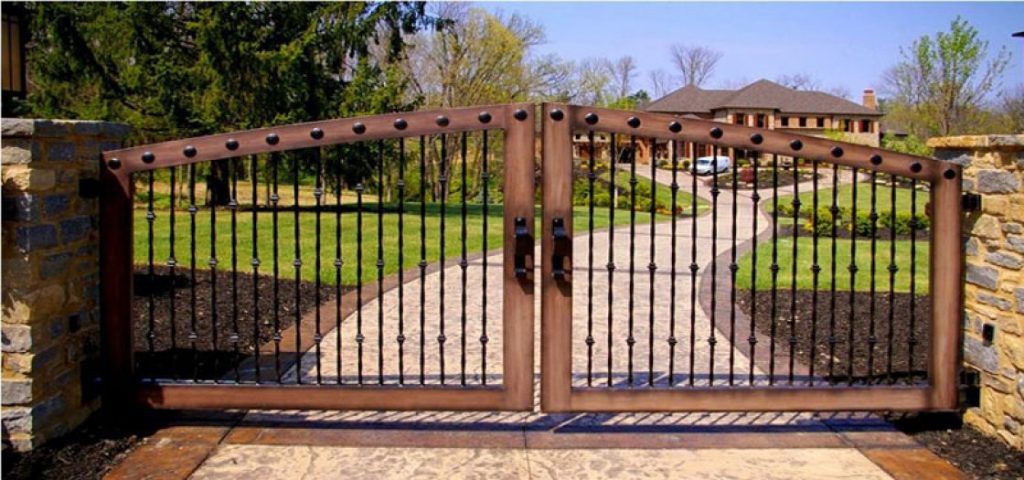 A gate is not just for privacy and security or adding curb appeal or even raising a home's value. According to The Spruce, a well-designed gate can quickly become the 'focal point of a home's front exterior.'
Since so much is riding on a residential property's gateway, it's essential to see what options homeowners have when choosing the right one for their property.
Here are a few of the most commonly chosen gate ideas, combining different styles and materials.
Property and Driveway Gate Styles
The different styles of gateways cater to different needs.
Swing Gates
As the name suggests, these gates swing open and closed like a door, allowing cars in and out the driveway. Ideally, the gates should swing towards the property and away from the outside, especially if the gate is located by the road.
If you want your driveway gate to open outward, make sure there is enough space when the gate is fully opened to avoid blocking passing traffic.
These gates usually open just 90 degrees and do not take up much space, apart from their length. Some even save more space by having two gates of equal length.
Swing gates are also usually installed on a flat plane to avoid scraping.
Sliding Gates
Much like sliding doors, these gates open and close by sliding in and out from a recess located in an adjacent wall or fence. Compared to swing gates, these save even more space. However, the space needed here extends beyond the driveway towards the side.
There are different kinds of sliding mechanisms that are applicable in varying circumstances. The popular V-track slider, for example, is not advisable for properties in snowy locations because the path of the slider needs to be clear and straight at all times.
Retractable Gates
A retractable ground gate is a type of sliding gate that slides in place from recesses on the ground. These are usually automatically operated and require a more complicated setup process, and are also usually more costly. 
This type of gate saves the most amount of space because the gate material is hidden underground when the gateway is open.
Automatic Gates
Automatic driveway gates are becoming more and more popular, especially as smart devices and the internet of things are becoming more common as well. These gates can be swing, sliding, or retractable in design.
They can also have different automatic mechanisms. Some gates can react to radio frequency remotes. Some can be opened or closed with a push of a button inside the property, and others can even be controlled using phone apps.
When it comes to the installation and maintenance of these automatic gates, we'd be happy to help. Call us at 817-965-7873.
Materials for Your Property or Driveway Gate
Gates can be made from different materials as well. The following are usually chosen for their strength and other unique qualities.
Wood:
Hardwood gates are popular because of the strength of the material and the character it brings to the property. This material can also be used together with metals, especially when making privacy gates that cover the gate area, not allowing people outside to see inside the property.
Metal:
The usual choices are aluminum and iron for their strength. The weight of these materials should also be considered, especially when you want an automatic mechanism.
Vinyl or PVC:
These materials are similar to those used in decking. They are light, durable, and usually cheaper than the alternatives.