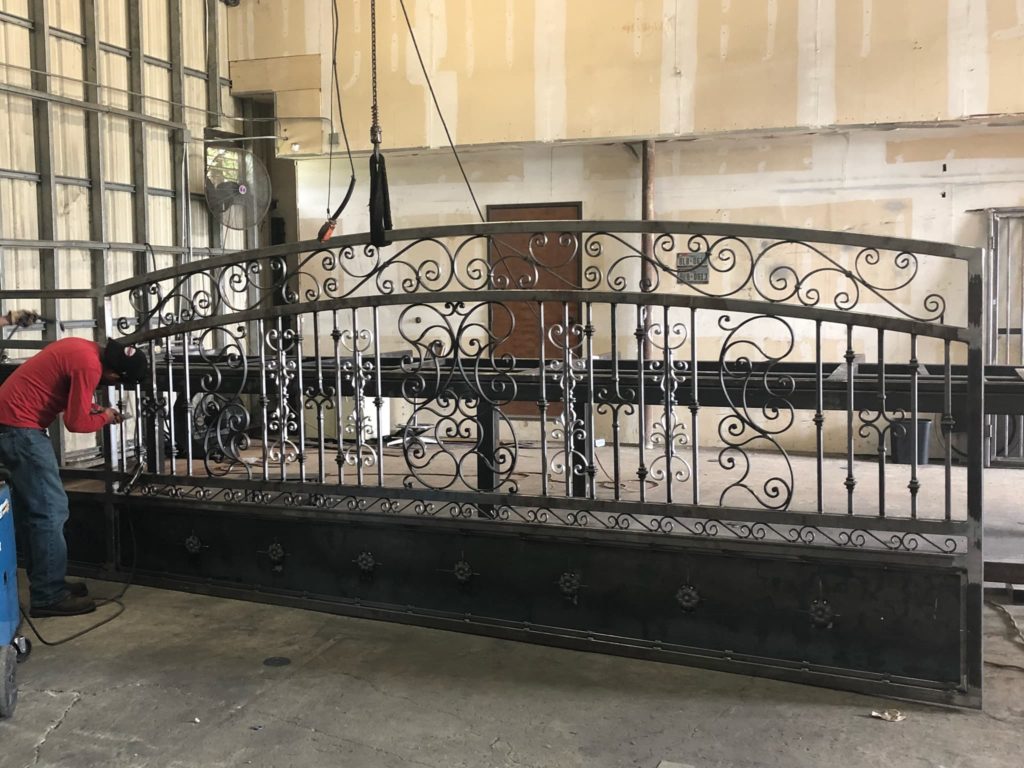 Gates deserve careful thought and attention: they are the first things visitors see when visiting your home. More than that, they factor in prominently in your property's curb appeal and security. Therefore, it's essential to choose a gate that meets your needs and expectations in these areas.
At 4 Sure Gates, we can offer you a variety of materials. We can classify them into three: metal, vinyl, and wood. Below are the advantages of each type and the qualities they possess that will help you decide which one to choose.   
Vinyl Gates
When you find gates that are vinyl, they are likely made of PVC. It's a good choice if security is not a big problem, and you want to add a fence to boost your home's curb appeal. 
Vinyl is non-porous, waterproof, and non-toxic. As a non-metal, it doesn't rust; and being a durable synthetic material, it doesn't decay fast. It's not vulnerable to moisture, insects, and pests, either. And although it may look and feel like it's partly plastic, it doesn't warp or become deformed when exposed to extreme temperatures and weather cycles.
Vinyl may not be as strong as wrought iron or steel, but it is five times stronger than wood. It's also very versatile; there are many attractive pre-made designs and, if you can find the right supplier, you can have it custom-made. With vinyl gates, therefore, you get picture-perfect gates that can last for decades.
Durable

Long-lasting

Low-maintenance

Easy to install

Versatile / Customizable

High aesthetic value
Metal Gates
Metal gates made from wrought iron or steel are known for their durability, versatility, and aesthetic appeal. Iron is malleable, but it is strong and has high resistance against vibrations, weathering, and impact damage. Metal gates are an excellent choice if security is your main priority. 
For security, metal gates are the best for electric gate systems with automatic openers. Wrought iron, for one, is perfect for automatic sliding gates. It is heavy and robust enough to stay firmly within the tracks; it won't easily give way if someone tries to force the mechanism out of alignment.
In terms of appearance, metal gates also score high. They are versatile, and the metalwork can be customized according to your goals. For instance, you can design a steel gate that uses both bars and panels. Bars have a functional purpose: they reveal who's on the other side of the gate. Solid steel panels, meanwhile, hide your property from view, offering you a bit of privacy. Combine both, and you can have a unique gate that:
Provides security

Offers privacy

Boosts your property's curb appeal

Is long-lasting

Is strong and durable
Wood Gates
Wood gates have a broad range, from the quintessential white-picket to treated hardwood to steel-framed. Wood is arguably the most vulnerable to wear and tear, but modern treatment and finishings can extend its serviceable life. Moreover, wood is versatile and can be put together with other materials to achieve an optimal gate. 
The advantage of using wood is it's readily available, sustainable (reclaimed wood with high aesthetic and functional value is currently trendy), and customizable.
It's available and affordable

It boosts your property's curb appeal

It's versatile

Minor damage is easy to repair
Choose a Gate Material According to Your Priorities
All three types offer many benefits. It's just a matter of deciding which benefits weigh more for your particular needs and wants. 
Physical constraints are also a consideration. If your driveway is flanked by stone or pillars, for example, metal and massive wooden gates would be a better fit than vinyl. If your property is flanked on both sides by neighbors' backyards and garages, however, a high vinyl gate and fence would be more economical and space-efficient (not to mention easier and faster to install).
No matter what type of gate you choose, it's crucial that you find capable and reliable people to install it. You can count on 4 Sure Gates to do it for you. We've been providing professional gate repair and installation services in the Fort Worth area since 2005. Your gate installation will proceed without a hitch with 4 Sure Gates.
Contact us today to request a quote or book a consultation schedule. You may call (817) 965-7873 or fill out
the contact form on our website
.