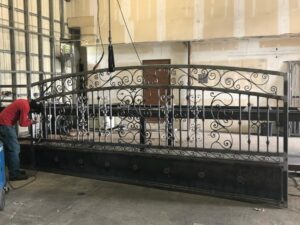 If there's one thing you can add to your property that improves its security and overall appearance, it's a driveway gate. Adding a driveway gate will:
Protect your home from an array of threats, including trespassers and stray animals
Boost your home's curb appeal, depending on the gate design you choose
Increase your overall property value because of the practical benefits mentioned above
If you want to maximize the aesthetic appeal and security that a driveway gate can provide, you need to choose the right type of material. As gate installation and repair experts, we know different materials have unique benefits. But for the purposes mentioned above, you should consider a metal gate.
Types of Metal Driveway Gates
Metal gates are sturdy, lasting longer than gates made from other materials like wood or vinyl. Apart from their durability against wear and tear over time, metal gates can also withstand more force, such as a vehicle crashing and hitting them.
With that said, you have plenty of options for the type of metal you want your gate to be. Each of these has different benefits, which we will discuss below.
Steel Gates
Steel is the most heavy-duty metal used in creating driveway gates. It can withstand the day-to-day force exerted when opening or closing a gate, as well as the force from sudden impact, like when something crashes into the gate.
Steel gates are also resistant to corrosion, thanks to the galvanizing and priming of the material. This makes steel gates low maintenance. With occasional surface cleaning and lubricating the hinges, your steel gate will protect your home for a long time.
Aluminum Gates
Unlike steel, aluminum is not the most heavy-duty material. Instead, it's lightweight, which is its main benefit. It's ideal for larger gates without having to worry about it sagging from its weight or being misaligned.
Though aluminum gates are not as robust as steel gates, they're far from flimsy either. They can withstand natural wear and tear and are also highly resistant to rust.
Being made from lightweight material, aluminum gates are also easy to install. They also make for great automatic or electric gates because the gate motor won't have to work as hard to open and close them.
Available in different colors, designs, and styles, aluminum gates provide the beauty and security of steel gates without the cost associated with it.
Wrought Iron Gates
Like steel, wrought iron is a heavy-duty material. Highly durable and malleable at the same time, this type of metal makes for perfectly secure and beautiful driveway gates.
Wrought iron gates are not susceptible to dents and bending, and can withstand shock damage. And with wrought iron being an iron alloy, it's much more corrosion-resistant than regular iron.
The material's malleability is its main benefit. You can have a wrought iron gate with an impressive, intricate decorative design since wrought iron can be shaped into all sorts of patterns. With a beautiful wrought iron gate, your home's value is sure to increase.
Install Metal Gates for Your Driveway
Now that you know the benefits of metal gates and the different materials you can choose from, it's time to equip your driveway with one.
4 Sure Gates offers metal gate design and installation services for homes in Fort Worth, TX and surrounding areas. Check out our gate designs today.