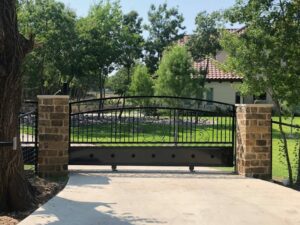 The average cost of installing a driveway gate is around $1,900. For cantilever gates, it could go a little higher than that. It's no surprise that many homeowners are worried about getting a cantilever gate for their homes. So, is it worth the price?
Fortunately, cantilever gates do offer many advantages that make them a worthy investment. This article will highlight why you should consider getting a cantilever gate for your home.
1. A Cantilever Gate Provides More Space
Cantilever gates rely on sliding mechanisms to open or close. This design requires them to use less space compared to gates that swing. Most cantilever gates slide in one direction, which is usually directly parallel to the existing fence line.
Cantilever gates are an excellent choice for homes that don't have a big enough area for swing gates to maneuver. This type of gate is also ideal for small spaces like driveways.
2. Requires Less Maintenance
Cantilever gates are easier to maintain than other gate designs. It can be installed with nylon cantilever rollers that have sealed bearings and nylon roller covers. These parts do not need to be greased and are not prone to rust.
For installation, cantilever gates also use bolts that are easy to replace or adjust later. For example, the brackets that link the gate operator to the gate are installed with bolts that enable you to change them easily if a situation calls for it.
During a snowstorm, it's also easier to clear snow and other obstructions from a cantilever gate than a swing gate.
3. Offers the Most Security
Cantilever gates and other sliding gates are very popular with commercial property owners. In general, these provide more security among all other gate designs.
For example, it's tough for anyone to force open a cantilever gate because it's not designed to swing inwards or outwards. Due to this structure, cantilever gates exude an imposing presence that may dissuade intruders.
These gates also work perfectly with many security devices like photobeam detectors and safety edges. Due to their sliding nature, you can easily install photobeam detectors behind them without worrying about tripping the alarm every time the gate is opened.
4. A Cantilever Gate Is Versatile
One of the most significant benefits of a cantilever gate is its versatility. Cantilevers are suspended above the ground, allowing them to be installed across a wide range of surfaces and terrain.
If your property has a gravel driveway or uneven surfaces, gate systems that rely on a bottom track simply won't work. Cantilever gates would be the perfect alternative since landscape features will not affect their operation.
5. It Can Last a Long Time
Properly installed and maintained sliding gates can last many years. However, cantilever gates often last longer than most sliding gate systems due to their heavy-duty construction. Since cantilever gates operate above the ground, they are less exposed to dirt or water, the leading cause of wear and tear in gates.
These are just some of the benefits cantilever gates can provide your home. Cantilever gates are great investments, especially if you are looking for gates that offer safety, security, and longevity.
4 Sure Gates has an experienced team of licensed gate contractors and installers ready to serve you. If you plan on installing an automatic gate, contact us today for a free estimate. Our team would be happy to assist you in finding the right gate for your home.