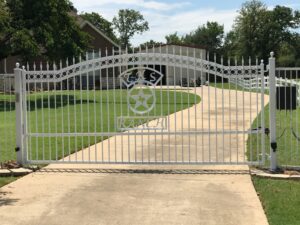 Metal gates, such as steel and wrought iron, cost between $600 and $4,000, which is slightly more expensive than wooden gates. However, the added cost is often justified by the increased durability and security that metal gates provide.
Metal gates offer a powerful combination of functionality and aesthetics, enhancing homes and businesses' security and visual appeal. Whether you're considering a gate installation or looking to upgrade your existing one, it's essential to prioritize safety and security.
This blog will explore the crucial factors you should consider and the questions you should ask when working with a gate supplier.
1. Material Matters
The foundation of any secure metal gate is the material it's made from. Common choices include steel, wrought iron, and aluminum, each with unique advantages.
Steel gates are renowned for their strength, making them ideal for maximum security. Wrought iron gates combine strength with intricate designs, adding aesthetic value. Aluminum gates are lightweight, durable, and corrosion-resistant, making them an excellent choice for many applications.
2. Gate Design and Visibility
Opt for gate designs that limit visibility into your property. Solid metal panels or decorative elements can prevent potential intruders from assessing what's behind the gate, reducing the temptation for unauthorized access.
3. Access Control Systems
Access control systems are at the forefront of gate security technology. These systems allow you to manage who enters your property with precision. When consulting with your gate supplier, inquire about the different access control options available, such as:
Keypad Entry: A simple yet effective way to control access with a PIN code.
Remote Control: Allows for convenient gate operation from a distance.
Biometric Scanners: Utilize fingerprint or retina scans for secure access.
Intercom Systems: Enable communication with visitors before granting access.
Smartphone Integration: Control your gate through a mobile app, granting or denying access remotely.
Card Readers: Ideal for businesses, they require authorized personnel to swipe a card for entry.
4. Surveillance Integration
Integrating surveillance with your gate system provides an extra layer of security. When discussing your project with a gate supplier, consider incorporating these surveillance features:
Security Cameras: Strategically placed cameras can capture activity at the gate, deterring potential intruders and providing valuable evidence if an incident occurs.
Motion Sensors: Triggered by movement, motion sensors can activate lights, alarms, or cameras to deter trespassers.
Video Intercoms: Allow for visual verification of visitors before granting access.
Automatic Alerts: Set up notifications alerting when someone approaches your gate, ensuring a timely response.
5. Anti-Intrusion Measures
To enhance gate security, explore anti-intrusion measures that deter unauthorized access or tampering:
Anti-Climb Features: Choose gate designs that make climbing difficult, such as pointed fins or curved tops.
Anti-Ram Barriers: Install bollards or barriers that prevent vehicles from forcibly crashing through the gate.
Tamper-Proof Locks: Opt for high-quality locks resistant to picking, drilling, or other tampering methods.
Alarm Systems: Connect your gate to a security alarm system that alerts authorities in case of unauthorized access attempts.
6. Maintenance and Regular Inspections
Your gate's security can be compromised if it's not maintained correctly. Ask your gate supplier about maintenance recommendations and schedules. Regular inspections and prompt repairs are essential to ensure your gate functions securely.
7. Local Regulations and Codes
Before installing a metal gate, check local regulations and codes governing gate installations. Compliance is essential to avoid legal issues and ensure your gate meets the required safety standards.
8. Professional Installation
Even the most advanced gate system won't be effective without professional installation. Choose a gate supplier with a proven track record in secure gate installations. They should provide the gate, expert installation, and ongoing support.
9. Accessibility and Emergency Situations
Consider accessibility for emergency services and exit routes. In a power outage or other emergencies, your gate should have manual override options to ensure a safe exit or entry.
10. Lighting and Visibility
Good lighting is a simple yet effective security measure. Adequate lighting around your gate discourages unwanted visitors and enhances surveillance camera effectiveness.
Leave the Metal Gate Installation and Upgrades to the Experts
Keep up with the latest advancements in gate security technology to stay ahead of potential threats.
4 Sure Gates offers a reliable metal gate installation in Texas. We are knowledgeable and up-to-date on the latest metal gate technologies we incorporate during installation.
Contact us today to have your metal gate upgraded.