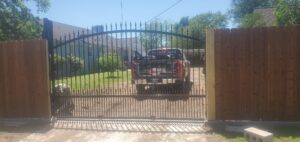 The global gate market has grown exponentially in recent years, reaching $2.49 billion in 2021 and expected to climb to $3.43 billion in 2028. Aside from manual ones, electric gates are in demand. Automatic doors can come in various shapes and sizes, fitting everyone's needs.
Once you have decided on your automatic gate's design, material, and style, it is time to determine whether you will have a swinging or sliding automatic gate installed. In this article, we will describe both options and make it easier for you to decide which is more appropriate for your premises.
Sliding or Swinging
Dimensions and opening directions are important when choosing swing or slide gates. It can also help you determine whether your place needs single or multiple gates. The weight of the door, the opening direction, and the installation environment are other key factors you need to consider.
Here are some features of both gate types.
Sliding Gates
They open and close by sliding to the side and are suitable for residential areas and industrial sites. They are also easy to operate.
Sliding gates are a better option if your property is on a slope, as swing gates will have to bear their load every time they are opened, especially on windy days. Their side-to-side opening mechanism makes them perfect for a house on the hill.
They have durability and security and offer a wide range of designs.
Don't forget to clean the tracks of the sliding gates to prevent any possible damage.
Swinging Gates
Swinging gates have a more straightforward construction. Depending on the style, size, and gate material, they may cost significantly less than sliding gates.
They open smoothly and quietly, which is good if you live in a residential area.
In general, swinging gates require less maintenance, depending on their material. They feature fewer moving parts, so not many repairs are needed.
Swinging gates are some of the most effective ways of accessing your property because they can have a key lock, contact, or contactless control system. When the premises are vacant, they can be secured by a chain.
These gates are a great option if you have a huge space available on your property.
They can open internally and externally.
They are easy to install.
To Swing or to Slide?
Deciding between sliding and swinging gates can be a tricky decision. Before choosing which gate would be a better solution for you, you must consider some things, starting from your location and available space.
Ensure that the gate price falls within your budget limitations. Finally, your vision is also essential; consider the aesthetics you want to reflect on your gate and the image of your whole property.
Top Gate Services in Texas
If you can not decide on your own, professionals like 4 Sure Gates can help you determine the type of gate that suits your needs and budget and meets your residential or business needs.
We provide quality installation, repairs, and maintenance, so your property gets the perfect look you've always dreamed of. Call us now to learn more about our offers and get a free consultation.