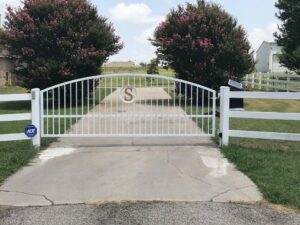 The average size of an American family home is estimated to be around 2,500 square feet. While this size can be considered large, some families continue to live in smaller homes and work with limited space.
Options may seem limited for those living in these smaller homes who want to have their properties protected by automatic gates. Fortunately, there are gate systems available that can operate ideally even if the space is limited.
This article will talk about some automatic gate options you can get for homes and businesses with limited areas.
Automated Bi-Folding Gates
Bi-folding gates have a clever design. Instead of having their gate panels swing open, they fold onto themselves to allow access. This type of gate is often used in pairs, with one pair installed on each side of the opening.
The bi-folding gate's design allows it to require half the space a traditional swing gate usually needs. This makes bi-folding gates an excellent option for those who have smaller areas to work with.
Traditional models of the bi-folding gate either have a track on the ground or a rail above the gates. These two models have their drawbacks. Tracks require regular maintenance due to their exposure to dirt, debris, and water. Meanwhile, rails limit the height of vehicles that can enter.
Fortunately, there are newer models that no longer rely on tracks and rails. Many modern bi-folding gates are now automated and use sophisticated access controls like keycards and electronic keys.
If you plan to get bi-folding gates, keep in mind that they must be carefully and accurately installed to operate efficiently. Consider working with an experience gate technician when having bi-folding gates installed.
Automatic Sliding Gates
The sliding gate is often regarded as the most commonly used automatic gate due to its simplistic design and ability to operate well in limited spaces.
Slide gates are mounted on rollers and are parallel to the fence or wall. Once activated, the gate slides to the side and behind a wall. Unlike bi-folding gates, a sliding gate doesn't need space to swing open. It's this design that makes it an excellent option for properties with limited spaces.
Sliding gates are available in a variety of styles. Here are some of the popular ones:
      Cantilever Automatic Gate:

Many commercial properties rely on cantilever gates for security. Cantilever gates are heavy-duty, durable, and don't occupy much space. It's similar to the basic sliding gate, but it is suspended above the ground instead of having rollers.

      Bi-Parting Sliding Gate:

This type of gate looks strikingly similar to a double swing gate. However, both gate panels slide to the side instead of swinging open. This type of gate is used in residential properties.

      Around-the-Corner Sliding Gate:

This type of sliding gate is perfect for areas that don't have enough wall (parallel) space to accommodate a traditional sliding gate. What the around-the-corner gate does is follow a curved path and it slides to the perpendicular wall instead.
These are some fantastic gate designs that work perfectly, even in properties with minimal spaces. These options can be considered complex designs and may require more planning to be installed properly. Partnering with experienced gate experts should help simplify the installation process.
4 Sure Gates is your trusted automated gate systems expert that's ready to help you with your gate installation or repair projects. If you plan to get the right gate for your property, contact us today. Our team would be happy to discuss your options and even provide a free estimate.