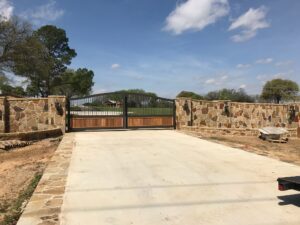 Using an automatic gate opener means no longer having to get out of your car and manually open the gate to access your property — whether it's for your home or your business.
If you're planning on becoming an automated-gate owner, you might want to know some of the differences between different kinds of automatic openers, like electric and solar.
Keep reading to learn about the differences between solar and electric automated-gate openers!
Solar and Electric Automated-Gate Openers
As the name suggests, automated solar gates are powered by solar activity, making them a perfect choice for areas with plenty of sunlight. On the other hand, automated electric gates do not depend on the sun to function. Instead, they run on electricity.
Solar gate openers function best when used just four to ten times daily in sunny weather. But electric automated-gate openers continue to work well even with frequent use, like at a busy business establishment.
Solar vs. Electric Gate Openers — Cost
If you opt for an automated electric gate opener, the gear will use electricity to function, leading to higher power bills. So, equipment costs aside, you'll pay more for electricity each month.
If you opt for an automated solar gate opener, you won't have to pay any utility fees — just leave it up to the sun for the gate to open automatically!
Solar vs. Electric Gate Openers — Reliability
At first thought, it might seem like electric gate openers trump solar ones. But in reality, solar gates don't lack dependability either.
Solar gate openers need sunlight to operate, so you might be anxious if your area doesn't have much sun. But there's a catch! You can use batteries to power your solar gate opener if there's unfavorable weather.
With batteries, your solar gate opener will always have an energy backup, even when there's no sunlight. In addition, electric gate openers will stop working if there's a power outage, but solar ones won't.
Dependability-wise, both solar and electric automatic gate openers deliver stellar results, so opting for either is left to preference.
Solar vs. Electric Gate Openers — Maintenance
All you need to do to maintain a solar gate opener is keep the solar panel clean so that it can absorb sunlight.
Electrical gate openers don't need much upkeep either — just clean them regularly and ensure all wires are intact. However, we always recommend opting for a high-quality gate opener with high safety standards.
Solar gate openers require a little less maintenance than electrical gate openers. But if you perform regular maintenance and take good care of your gate, both types of automatic openers can last for a long time.
4 Sure Gates: Delivering Unmatched Automatic Gate Installation & Repair Services for 15 Years!
You can trust 4 Sure Gates' team of dedicated professionals to handle all your gate repair and installation needs. We also offer custom-made gate designs!
Our reliable crew has experience with most gate opener systems and will walk you through the setup process from beginning to end.
Stop in our Fort Worth office Monday through Friday, from 8 AM to 6 PM, or fill out our online form and ask any questions you have — we'd love to hear from you!