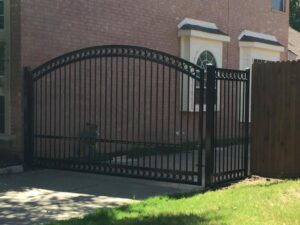 Gates not only add a level of safety to your home, but they can help raise the value of your house significantly. The same thing applies to wrought iron driveway gates. They can even come with a wide variety of design elements that can take your home's curb appeal to the next level.
In this article, we go over six popular design elements that you can get for your wrought iron gate.
1. Post Caps
If your gate post is taller than four feet, adding a post cap is a great way to make sure the design of your gate doesn't look incomplete. Post caps can also help deflect water and prevent any damage if your area is prone to extreme weather.
Post caps have a wide selection of designs ranging from Victorian-era themes to pineapple-shaped caps. Additionally, you can add a few other design elements to your post cap. Some homeowners choose to add lighting, which is a great choice for opening and closing the gate at night or dusk.
2. Balusters
Balusters are the vertical bars on your iron gate that allow the design to flow from top to bottom. In most standard gates, four horizontal bars will mark each of the four feet across the top of your gate.
You can also play with the design of your gate by changing the shape or size of your balusters, or even hiding them behind climbing vines to make the look seamless. Balusters can add a level of depth and artistic style to your wrought iron gate.
3. Hollow Balusters
Hollow balusters or "baskets" are hollow pieces of bars that help provide an additional level of complexity to your iron gate. These types of balusters are similar in design to traditional ones, but they merge at the top and create a lacy pattern that is perfect for hiding larger gaps.
4. Floral Designs
If you're going for a more rustic look, adding a few floral designs to your gate is a great idea. There are a variety of options for this, from iron flowers to custom carvings that mimic the look of vines and leaves climbing up your gate.
It mixes intricate design with the sturdiness of iron, making them a great representation of nature's enduring beauty.
5. The Arch
One of the most common iron gate choices is a traditional arch. This type is usually designed to be wide enough to drive through. This design has been around forever because of its simplicity and functionality. It's a good idea to have one on your driveway if you're going with a more decorative exterior design.
6. The Scroll
Scrolls are pieces of metal that seem to swirl and flow. The scrolls design is another popular element in iron gates design because it can work with almost any exterior style. It's elegant and understated, but it still adds the same touch of class for your driveway that an arch does.
Breathe New Life To Your Driveway Gate Design
Iron gates can be a beautiful addition to any driveway, and there are plenty of options out there that you can consider. These design elements we've listed should make choosing the right design easier and take you one step closer to breathing new life into your driveway.
When installing beautifully designed wrought iron gates, it's best to rely on a competent gate contractor. 4 Sure Gates is a professional gate contractor that assists clients in installing or repairing beautiful iron gates. If you're interested in having one installed, contact us today for a free consultation and estimate.