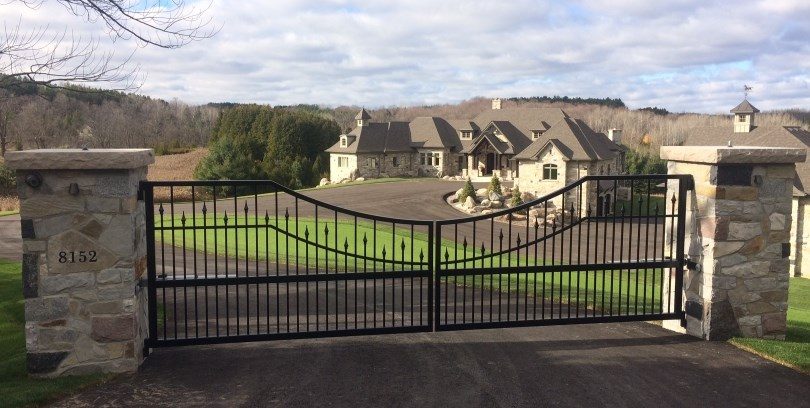 Homeowners want the best for all the parts of their home — including the driveway. When it comes to driveway improvement, gates are always part of the discussion. Swing gates are popular installations that ensure the safety of your driveway, as well as add to your home's overall exterior aesthetic. 
There are two types of swing gate styles: dual and single-swing. The question is, which style is the best for your driveway? The answer depends on your situation. 
Picking Your Gate
Determine the ideal gate style for your home by considering your budget, your home's physical restrictions, and aesthetics. 
The selection of a single-swing versus a dual gate may also depend on the following:
The gate's swing and the slope that runs to the opening or fence line. If you install a single-swing gate, it may bump against the rising slope. A dual gate, on the other hand, may prevent your gate from bottoming out. 

The slope that runs parallel to the opening of the gate or the fence line. If the slope is too high or the gate is too wide, a single-swing gate may bump against it. Divide the gap with a dual-swing gate. 
Also, consider the features of single-swing and dual gates before you decide. 
Single-Swing Driveway Gates
Single-swing driving gates are the most economical in the selection of gate styles. They are easy-to-install (even the automated ones) and their one-leaf fate style gives it a limited width.  With a single-swing gate, you'll also need only one automatic opener, making it a more affordable option compared to the dual-swing gate (this is applicable if you decide to automate your gates).
In terms of hardware, you'll only need half the hardware compared to double gates. Hinges, hinge posts and bolts are all you need. 
When you install a single-swing gate, you'll need more swing distance from the gate to the area behind it. For example, if you have a 12-fit single gate, you'll need 12-ft of space behind the gate to ensure the gate will not bump into anything. 
If you choose to install single-swing gates, you'll need heavier-duty posts to hold the weight of the gate. 
Dual-Swing Driveway Gates
Double-swing gates are the most common options for homeowners. Elegant and wider than its single-swing counterpart, the dual-swing setup has two leafs, which occupy less space and compliment any home aesthetic. 
Unlike a single-swing gate, you'll need less swing distance behind the gate. For example, an 11-ft gate will only need 5.5ft whereas, with a single-swing gate, you'll need all 11 ft. Dual-swing gates can also accommodate a wider driveway opening. It also has a traditional look, which gives your home a more elegant appearance. 
In terms of cons, double gates require more hardware, which makes the set-up more expensive. Another addition to your expenses is automation. You'll need an opener motor for each leaf. 
Your choice of gate depends on three main factors: physical restrictions, budget, and aesthetic value. If you are unsure about your selection, professionals can help you out. 
Get in touch with 4 Sure Gates today to gain professional insight and gate installation services.