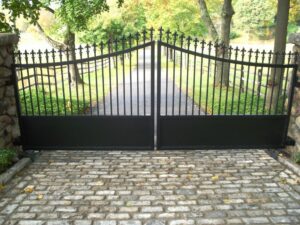 Regularly lubricating your gate or garage door prevents damage and increases its lifespan. That's an estimated $100 to $400 that you can potentially save on repair and maintenance costs.
Most cans of lubricants will cost you no more than $10, and they contain enough product for several uses. Below are the top gate lubricants recommended by experts:
1. White Lithium Grease Lubricants
Lithium grease works wonders for reducing friction, especially on gate parts with metal-to-metal contact. It comes in easy-to-use spray cans and is fairly simple to apply. Plus, it doesn't stain, cake, or budge when exposed to extreme weather conditions.
This top-grade product is safe to use on all moving parts, including the electrical operators, cables, springs, latches, and chains of your gate.
However, the downside is that it tends to accumulate grit and grime because it only stays on the surface rather than soak into parts. Remember to use it sparingly and always check for dirt buildup.
2. Regular Grease Lubricants
Standard grease works well for closed mechanisms but not so much for exposed parts like chains and hinges. Because grease collects dirt and grime, exposure to dust particles forms an abrasive surface that can damage the moving parts of your automatic gate or garage door.
If you live in a windy area, it's best to consider other types of lubrication.
3. Silicone-Based Spray Lubricants
Silicone sprays are superior to lithium greases since they are less messy and easier to apply. They are also water-resistant—they won't wash off after a rain shower. Likewise, they penetrate well into components such as springs and hinges, ensuring better lubricating performance and protection.
Silicone lubricants are also ideal for extremely hot and cold regions since they can withstand harsh temperatures.
4. Oil-Based Lubricants
There are also oil-based alternatives. However, they're not always a reliable option. They have a thinner consistency and wear off more quickly than most silicone-based lubricants and lithium greases. Additionally, oil-based lubricants tend to be less effective in extremely hot or cold environments.
How to Choose the Best Lubricant for Your Gate
Some types of lubricants work more efficiently on specific parts of your gate. Ideally, you should be using two different products.
For example, spray-based lubricants work best on wheels and hinges. They often come with thin, reusable straws that allow you to aim the product accurately.
Meanwhile, grease lubricants are ideal for rails and tracks. While they can be a pain to apply, they guarantee maximum protection and lubrication.
Reliable Gate Experts in Fort Worth, TX
If you're not sure what type of lubricant to use, don't hesitate to ask for help from the experts at 4 Sure Gates. We provide complete gate repair and maintenance for both manual and automatic systems.
If you plan to upgrade to an automated system, you can also turn to us for quick and cost-effective installations. We can fully customize your gate to match your property's unique demands.
Get dependable gate services without breaking the bank. Reach out to us today to receive a free quote.