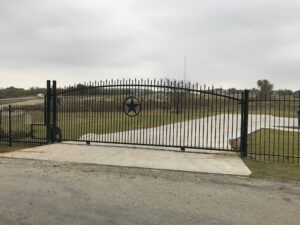 Although property crime rates in the US decreased by 7.8% between 2019 and 2020, automatic security gates are still common for both companies and private properties.
Different buildings and institutions warrant different levels of security, and most residential properties don't always need a high-security, impenetrable gate.
This article covers the most popular types of gates that US homeowners tend to go for.
Slide Gates
When automatic security systems are mentioned, the first type that comes to mind is usually sliding gates. They rely on a mechanism that incorporates rollers and a metal sliding track that are practical, elegant, and effective.
Slide gates are versatile, can be set at different angles, and function well on inclined or declined surfaces. Also, you don't have to pay extra to get the ground leveled. 
Curving Slide Gates
Curving slide gates are a subtype that's modified for more limited spaces. Instead of trying to cram in a huge gate in a tight area, simply opt for a curved gate. Depending on your chosen design, these gates will either be curved or slide at a curved angle.
Vertical Lifting Gates
While these are more popular with warehouses, though residential properties often use them if they have restricted space. Two vertical pillars are placed on both sides so the gate can easily slide up. However, ensure that vehicles that'll need to pass through aren't too tall and won't crash into the lifted gate.
Swing Gates
Swing gates are some of the simplest options design-wise. They resemble regular in-house doors but are fortified with sturdier materials and tend to be quite cheap. 
One thing to know is that they usually open inwards – towards the property, lest they damage the ground or surface outside the said property. Swing gates may not be the best option if your space is limited.
Electric Gates
Most automatic doors nowadays are electric. Still, you have the liberty to pick your desired materials.
Steel Gates
Steel electric gates are the most durable and sturdiest you can find. But they're also quite expensive, especially if you live in a low-risk area, where security isn't that big of a priority.
Aluminum Gates
Aluminum gates are even more expensive due to their contemporary look, even if they're not quite as protective as steel ones. They are lightweight and sturdy, making them a popular choice.
Let 4 Sure Gates Design and Install Your Automatic Gates
Working with trusted professionals is essential regardless of what kind of gate you want to go for. At 4 Sure Gates, we offer extensive gate designs to suit your preferences. Once you've chosen a design, our team will professionally install it on your property.
Combining affordable solutions with long-term maintenance services, we are the top pick for residential owners looking to install an automatic gate anywhere in Texas. Contact us now, and let's get you the perfect security solution for your home.