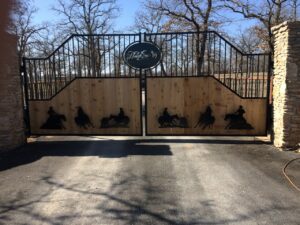 Metal gates have been a popular choice for residential and commercial properties for their durability, security, and aesthetic appeal. In recent years, metal gates have evolved beyond their traditional designs and are now available in a wide range of modern styles and finishes.
If you are interested in investing in a modern metal gate, you should know that the cost of a metal driveway gate can vary significantly.
Modern metal gates offer various design options that allow for customization. Join us as we explore the latest trends and design ideas for modern metal gates.
Current Trends and Design Ideas for Metal Gates
Metal gates are available in various designs, sizes, and materials that offer a blend of aesthetics and functionality. The latest trend focuses on sustainability, an environmentally-friendly design, and the use of technology to enhance their functionality.
Whether you want a sleek and contemporary gate or a more traditional design, modern metal gates are a wise choice for every property owner. Look for the following trends when gate shopping.
Minimalist Designs
One of the current trends in modern metal gate design is minimalism. The focus is on simple, clean lines and a minimalist color palette. These gates are usually made from stainless steel or aluminum and feature simple geometric shapes. The minimalist design is perfect for modern homes or commercial properties with a contemporary design.
Unique Textures and Patterns
Metal gates with unique textures and patterns have also become a trend in modern gate design. People are looking for gates with artistic designs, intricate patterns, and textures that add depth and dimension to the gate.
Laser-cut gates are a popular option for those looking for unique designs. Skilled gate professionals use advanced laser cutting technology to make detailed designs, creating impressive gates.
Also, rustic metal gates are another popular trend. They can be made from wrought iron or other rustic materials and include decorative scrollwork, wrought iron accents, and earthy tones. However, if you want some customization, the metal gates can be designed to incorporate specific elements of your choice. Custom metal gates are an excellent choice if you want a one-of-a-kind gate.
Innovative Gate Openers
Now you can choose from innovative gate openers, which use solar power or are compatible with smart home systems, allowing for remote operation. These gate openers are convenient and offer added security features like automatic closing and opening.
The smart gate system allows remote control of your gate using your smartphone. In addition, they can provide real-time updates on gate activity, making it easier to monitor access to your property.
Schedule Installation for a Modern Metal Gate
As you can see, the latest trends in metal gate design include minimalism, unique textures and patterns, laser cut, customization, and the use of technology. Of course, it is advisable to hire professionals when installing metal gates. While you may pay more upfront, avoiding replacements will save you money in the long run.
4 Sure Gates experts have the equipment and knowledge to properly install a metal gate in several cities in Texas. We offer all types of residential and commercial gate installation projects, and if you hire us, we guarantee the installation of your gate will be done correctly.
For more information about our services, contact us today.