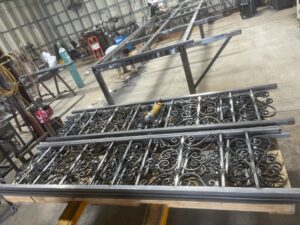 When choosing a gate for your property, it's best to go the extra mile. You'll want to ensure the safety of your physical assets and the well-being of all the occupants. However, you want it to look nice and for the material to fit the rest of your property.
On the one hand, wood is one of the two most used materials for gate manufacturing. The lumber industry in the U.S. amasses a total market size of $201 billion, and a significant part of the revenue includes wooden products like gates. Metal is another popular material for gate manufacturing due to its durability, ease of installation and maintenance, and endless style options.
Choosing between wood and metal can be challenging, but 4 Sure Gates can help.
This guide lists the pros and cons of metal and wooden gates to help you find the best choice for your property. We'll also recommend the best service provider for all of your future gate projects, so stay tuned!
All About Wooden Gates
The beauty of owning a wooden gate is that it creates a one-of-a-kind visual appeal and a rustic charm to your household. A gate made of lumber adds character to a property, regardless of whether the property is a large estate or a small cottage.
Most commonly, wooden gates are made from a type of softwood because it's the most cost-efficient pre-made lumber on the market. Plus, softwood can be carved into different shapes and forms if you want an even more unique touch.
The Benefits of Wood
Though wood is the preferred gate material for homeowners that appreciate a traditional style, its natural properties appeal to a broad audience because:
It blends well with gardens
It ensures maximum privacy due to its solid design
It can be painted or oiled to achieve a variety of finishes
It's readily available
It's affordable
However, it's worth mentioning that if a wooden gate isn't adequately maintained, it will disintegrate over time.
All About Metal Gates
One of the reasons many people choose metal gates is because they add a contemporary touch.
Even though metal gates are found in an array of traditional styles, they are often associated with modern designs. Moreover, wrought iron and cast iron are becoming a favorite among young homeowners looking to add a personal touch to their properties.
The Advantages of Metal
Gates made from metal provide a strong sense of security, allowing homeowners to feel protected and safe. In addition, they:
Are low maintenance
Are long-lasting
Go well with modern and traditional settings
Can be custom-tailored
Come in every price range
Metal gates are significantly heavier than wooden gates, but that will not affect performance.
How to Choose?
In essence, it all comes down to preference. Wood might be best for your desired look if your property has a more rustic theme. But if you prefer contemporary, sleek designs, a metal gate is something you should consider.
Regardless of your aesthetic preferences, choosing either wood or metal as the primary material for your gate will be a great choice.
Get Professional Gate Installation from 4 Sure Gates
If your property needs a full gate installation or even a simple repair, give us a call. You can trust the 4 Sure Gates team to handle all of your gate needs!
Contact us today, and get a free estimate for your project!