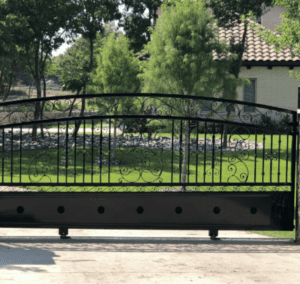 According to a joint study by the University of Alabama and the University of Texas at Arlington, homes with impressive curb appeal tend to sell an average of 7% more than similar homes with less inviting exteriors.
If you have a home with a well-landscaped front yard, clean and paved driveway, and freshly painted exteriors, your property looks more appealing to buyers compared to one with overgrown grass, peeling paint, and a crumbling driveway.
If your property has a gate, it's also something that you must pay attention to when planning on improving your home's curb appeal.
Improving the Appearance of Your Metal Gates
Metal gate repair is often neglected as a part of curb appeal enhancement but it shouldn't be, especially if you live in an area that experiences extreme weather conditions. Metal gates are prone to rust and corrosion, especially if exposed to sun, rain, and moisture.
No matter how sleek or elaborate the design of your metal gate is, it will not look good with rust. Corrosion can also compromise the integrity of the metal. Below, we share the steps on how you can remove rust from your metal gates and make them stunning again.
Step 1: Rinse with Soapy Water
Wet your gate with soapy water first to remove surface dust, bird droppings, and other dirt clinging to the surface. You can use a sponge and dip it in the soapy water mixture, then give your metal gate a good scrub.
Step 2: Remove Rust Flakes with a Wire Brush
After that initial rinse, it's time to deal with flaking paint and rust next. A wire brush is the best tool for the job since the steel wire bristles are strong enough to remove the rust clinging to your metal gate.
You can also use a wire brush drill bit, so the process is less strenuous.
Step 3: Use Paint Stripper to Remove Old Paint
Even after the wire brush, your gate might still have paint clinging to it. Apply paint stripper to the metal rails to remove it. Make sure you're wearing gloves to protect your hands from harsh chemicals.
Once the old paint softens, you can use your wire brush again to scrape it from the gate's surface.
Step 4: Sand the Remaining Corrosion
The removal of old paint can reveal further signs of rust and corrosion. This time, you can remove them and other surface imperfections with a piece of sandpaper or a drill bit flap sander. Your gate's surface should be smooth and free of rust after this.
Step 5: Rinse to Remove Oil & Grit
Clean the gate for a final time using the sponge-and-soapy-water combination you used in the beginning. This will remove the oil and grit clinging to your gate's surface after all the scrubbing, scraping, and sanding you did.
Finally, rinse the gate with clean water.
Now, your metal gate is ready for repainting. To keep it safe from rust and corrosion, make sure to prime the surface properly and use rust-resistant paint.
Make an Impact with a Stunning Metal Gate
4 Sure Gates is Forth Worth, Texas' premier gate service provider. From gate design to installation and repair, you can count on us to give your curb appeal a boost with the gate services you need.
Call us at (817) 965-7873 for a free consultation.