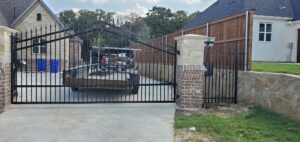 More homeowners are installing driveway gates to provide security for their families and homes. Gated driveways help families feel safer, as their children are more protected when playing outside, and it minimizes the risk of a break-in or robbery.
Given the increased injury rate among pedestrians, an adequately installed front gate gives homeowners peace of mind knowing their loved ones are safe.
But gates can offer many other benefits for homeowners and their property. Here is what a driveway gate can do for you as a homeowner.
Added Privacy
There are many reasons to add gates, but one of the most popular reasons is to increase the privacy around your home. We've all experienced nosy neighbors or prying eyes, but a gate provides a visual barrier and limits access to unwanted visits.
Plus, you can observe and manage who enters or comes near the property by installing additional cameras and intercoms on your gate system.
Safety of Assets
One of the main reasons homeowners choose to install driveway gates is to secure their assets. Trespassers and criminals tend to skip houses with gated driveways, so installing a gate is the smartest decision for maximum property security.
Gates discourage burglars and thieves from coming near your home because a gate is just another layer of protection that makes getting inside the home — and escaping it — more complicated.
Increased Aesthetics
When you first walk into a neighborhood with gated homes, you may notice the homes or yards, but the gate is what really stands out to most visitors. And, with so many gate styles, colors, and material choices, homeowners can create a desirable property border that neighbors and incoming guests will admire.
Plus, when you're ready to sell your home, potential buyers are usually drawn to gated properties.
Ease of Use
Gates make homeowners' lives simpler in many ways. They limit access to your home — especially for trespassers and uninvited guests — but also provide comfort for you as an owner. Owning an automatic smart gate allows easy access to your property with just a click of a button.
No need to get out of the car in the rain to push the door open — an automatic driveway gate can do the job on its own.
Safe for the Family
Driveway gates help keep your family and close ones safe on the inside. Children and pets may wander around the property when playing without considering the possible consequences. But driveway gates can ease parents' and pet owners' minds and provide a barrier between your loved ones and external threats.
Whether it's keeping strangers away from children or preventing pedestrian accidents due to speeding, gates are a solid safeguard and your first line of defense.
Increase Home Value
If you ever decide to sell your home, a driveway gate will definitely increase its property value. Potential buyers are drawn to the safety, comfort, practicality, ease of use, and aesthetic of driveway gates.
Matching the gate to your home's style gives it a sophisticated and high-end appearance that many buyers will pay more for.
Choose 4 Sure Gates: The Finest Gate Solutions at Your Fingertips
Installing a driveway gate is the first step to increasing your home's safety and privacy, but maintaining a gate is a little trickier.
Regarding regular gate servicing and maintenance, 4 Sure Gates should always be your number one choice. We offer quality gate solutions and top-notch gate maintenance, repair, and installation services in the Dallas, Arlington, Southlake, Plano, Fort Worth, Frisco, and Irving areas.
Get in touch with our gate professionals, and learn more about our superior gate services!