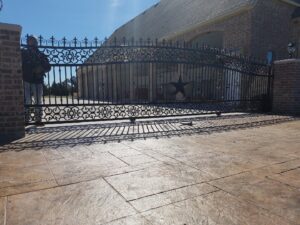 If you have an ornamental gate on your property, you're one of the homeowners that appreciate safety, aesthetics, and timeless elegance. Whether it is an automatic, swing, or sliding gate, all are prone to corrosion. As you probably know, rust is the number 1 enemy of iron. Nothing can affect the aesthetics and function of an iron gate quite like rust can. As the product of corrosion, rust can be a pain in the neck to get rid of, but nothing is impossible.
Keep reading to see how to keep your iron gate rust-free and where to find reputable gate installers in Fort Worth, Texas.
Clean the Gate Regularly
Regular cleaning will prevent particles from scratching the iron surface and keep dirt, dust, and sand out of your iron gate. Cleaning an iron gate isn't hard; all you need is warm water and non-abrasive soap (your usual liquid soap will work fine).
Use a sponge to soak in warm water and soap and gently scrub the iron gate. After you've immersed the gate in soap and water, use a cloth to wipe off the excess moisture, and you're all set. You can do this every time you notice rust beginning to form, but experts suggest annual inspections will suffice.
Apply a Metal-Protection Product
As mentioned above, metal, i.e., iron, can easily rust. Luckily, there's something you can do about it. Special metal-protection products can help with slowing down the process of rust formation. Products like epoxy enamels, zinc, and silicone-based products are great for preventing rust from ruining your iron gate.
Some homeowners are particularly fond of these metal-protection products because they come in a selection of glosses and finishes, so you can safely choose one that won't ruin the aesthetic.
Tend to the Rust Spots
Getting all the rust off your gate can be challenging, especially if you haven't maintained it for a while. All is not lost, though. You need to regularly inspect your gate for rust spots, and whenever you notice one, immediately fix it.
Set some time apart to check the gate for rust spots every once in a while, especially if you live in an area that sees a lot of rain. Once you've found the rust spots, use steel wool or sandpaper to scrape off the rust and keep it from spreading.
Lastly, coat the gate in a layer of metal-protection product, and you'll be all set for some time.
4 Sure Gates: Gate Installers in Fort Worth, Texas, You Can Rely On
At 4 Sure Gates, we aren't just the best gate installers in Fort Worth, Texas, but also your most affordable option, too. Whether you're considering adding a touch of security to your property with our access-control systems or you need immediate gate repair services, you've come to the right place!
Our professional staff will answer all your questions about gate repair and installation so that you can make the best-educated decision. Drop us a line, we're always open for business.