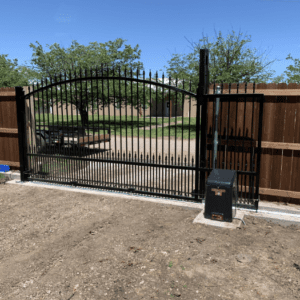 Automatic driveway gates have been quickly growing in popularity these last few years. Many commercial and residential property owners have swapped their manual gates for electric ones, knowing that they can heighten security and increase their curb appeal.
But as automatic gates grow more prevalent, some property owners have been concerned about one thing: can electric gates be hacked?
The answer is yes. Just like other forms of digital technology, electric gate openers can be hacked.
4 Sure Gates, a licensed automatic gate contractor, explains what makes automatic gates vulnerable to hacking and how you can protect your property from this security threat.
How Can Electric Gates Be Hacked?
Hackers can get hold of the codes used to open and close electric gates using specialized equipment. By duplicating these codes, they'll be able to operate the electric gate opener remotely.
Another way that automatic gates can be made vulnerable to hacking is if the system is integrated into your internet network. For example, if someone hacks into your Wi-Fi, they could potentially control your driveway gate.
Hacking into automatic gate systems, however, requires expert equipment and skill. It's no ordinary feat, so the chances of someone hacking into your electric gate system for malicious intent are slim.
Regardless, you want to take the necessary precautions to safeguard your property from hackers. There are several ways to double the security of your driveway gate, creating layers of protection that minimize the risk of intrusion, both physical and digital.
How Can You Secure Your Automatic Gate?
Make sure your connection is secure if your electric gate is embedded with your internet network. Set up a strong firewall system to block all unauthorized connections to your network, including hackers.
For commercial property owners, we recommend investing in a hardware firewall over a software one. Hardware firewalls have a separate operating system, making them more difficult to breach and less vulnerable to cyber threats.
Additionally, don't forget to change your network password regularly to prevent it from getting stolen. You also want to follow best practices and tips on how to create strong passwords.
As a double measure, you can equip your driveway gate with additional security tools and accessories. An alarm system and a 24/7 surveillance camera, for instance, help ward off intruders. The CCTV will also record the face of everyone who enters your property, making it easier for you to identify the intruder in case of a breach.
To ensure that your electric gate is doubly secure, hire a gate specialist to help you out. They'll assess your automatic gate system and search for vulnerabilities, then they'll come up with solutions to protect it from hacking.
Secure Your Automatic Gate, Secure Your Property
4 Sure Gates is a gate repair and installation specialist in Fort Worth, serving residential and commercial clients in surrounding areas. We help you select the best gate system for your security needs, making sure that your property remains safe 24/7.
For inquiries about our gate installation services, fill out our online form.