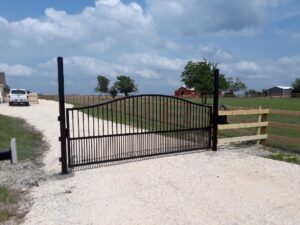 If you have an automatic driveway gate, you probably already know it requires a motor-powered gate operator system, allowing it to open and close without manual force. Most of these gate controllers use electricity to operate, though it isn't the only option.
So, what happens if your electricity is suddenly cut by a storm or power surge? The common fear is that your property's occupants would be stranded inside or entirely locked out. Is an electric gate manually operable? If so, can you still rely on its security?
In this blog, we're sharing our top tips on operating and troubleshooting your automatic gate in case of a power outage. Keep reading and learn how the 4 Sure Gates team takes care of business!
Open or Closed?
One of the biggest worries automatic-gate owners have is whether they'll be locked in or out of their property during a power outage. If an automated gate does not default to 'locked' mode after a power failure, the gate provides less security, especially if that power failure happens at night.
Generally, most automated gates remain open during power failures — these are called 'fail-open' systems. With this kind of gate, you'll need to secure the entrance to your property, as it will remain open until power is restored or you activate the manual override mechanism.
If you're worried about the possibility of unauthorized people taking advantage of the power failure, 'fail-secure' automated gates may be a better option. With these gate controllers, the gate defaults to a closed position when power is cut.
Manual Release
Most well-known gate-control manufacturers now incorporate manual override features that ensure electric gates remain operable when power fails. The manual release mechanism is triggered with a key that disconnects the motor drive from the gate shaft, releasing the gate for manual operation.
Most gate opener instruction manuals will guide you through the manual-release process.
If you own a commercial facility with an automatic gate, your staff should be fully trained to trigger the manual release feature to ensure a continued flow of vehicles.
Backup Batteries & Solar Power
If you experience frequent power outages due to grid infrastructure, lightning, or rain storms, you should consider investing in a battery backup or a solar-powered opener for your automatic gate.
Battery backups kick in when your standard power is cut and give your gate power during an outage. This means you will not need to use the manual override unless the battery is flat, however, you will have to ensure the battery is charged before using it.
If you'd rather not worry about recharging a backup battery, installing a solar-powered system can help with any power outage concerns. Though these openers usually cost more upfront, you save money over time because you're not paying to power it with electricity.
Take Precautions
You should always take safety precautions when working with your automatic gate. While your gate's manual override feature will allow you to open and close it manually, it will not move as freely. You will need to push it slowly and steadily, as there will likely be some resistance.
Most gate controller manufacturers have specific manual release settings, which may differ from your neighbors. It is essential to carefully read your manual and fully understand how the manual override system works, so you don't panic during a power outage.
The Automatic Gate Experts
For all of your automatic (and manual!) gate needs, the 4 Sure Gates team has you covered. Whether your gate is experiencing power issues, or you're ready to install a brand-new system, we have the operators and designs for any property needs.
Get in touch with our team for a free estimate on your next driveway gate project.