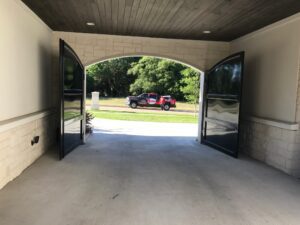 One of the first electric gates was invented in 1881 by Fred W. Watson. But regardless of whether you have an automatic or manual one, gates are a beautiful addition to any house, and can actually increase its value.
Gates are also a great way to protect your property from trespassers and vandals, which is why many commercial properties install them in the first place.
No matter the reason for its installation, maintaining your gate's function is vital. Every kind of gate — whether automatic or manual —must function correctly to keep you and your property safe.
Regularly Inspect Your Gate
Gates are the first thing we see on any property. Whether it's a commercial or residential property, a malfunctioning gate leaves a negative impression on visitors and fails to protect your home. Both residential and commercial gates should be regularly maintained and serviced to ensure proper functioning.
You should have your gates inspected every six months to identify potential problems. Motor malfunctioning, gate alignment, rusting, or hinge problems are some of the things you'll need to look out for.
Keep reading to learn what parts of your gate you should inspect and how often you should do so!
Every Three Months
Make it a habit to regularly inspect the gate for any malfunctioning. If you are an owner of a sliding gate, check the track for any rusting or bending. Contact a professional if you notice any issues with the opening mechanisms.
The lubricated, moving parts on your gate can trap a lot of dead leaves and debris. If you notice these parts are covered in dirt, clean the area and apply more lubrication if necessary. You should also inspect the gate for signs of corrosion or other damage.
Make any necessary repairs immediately, because avoiding them can lead to more expensive work down the road.
Annual Maintenance
Your annual maintenance checklist includes lubricating the gate's moving parts, which is not a simple task, and does require some specific gate-related knowledge. Some components that will need lubrication are hinges, chains, wheels, tracks, opener gears, and the control box.
The hydraulics system will also need lubrication, but you should check its pressure levels every six months to ensure its functioning correctly.
Weather Conditions
While regular servicing is recommended twice a year, more frequent inspections may be required depending on your location. If you live near the coast where there's more salt in the air, your gate's components may corrode quickly.
Those living in areas with strong winds should also service their gates more often. Increased wind resistance on an operating gate can cause damage and system malfunction.
Reasons to Service Your Gate
There are many reasons to service your gate regularly, but safety and reliability top the rest. All safety features must function properly to avoid potential injuries and lower the risk of accidents.
Automated gates should always have a manual release function in case of power failures. You should address any issues with power functions during your semi-annual gate service appointment. No one wants to be stuck inside their property without power!
Based on the type of gate you installed, the materials used, and its different features, you'll need to provide regular, specific care.
Gate systems are intricate and complicated — one malfunctioning part can lead to many other problems.
4 Sure Gates: Automatic Gate Service
Located in Dallas, Texas, 4 Sure Gates offers its customers professional gate installation, maintenance services, and repairs. We are your trusted partner for driveway gate repair and maintenance!
Automatic gate operators are our specialty, and we can solve any electric, manual, or solar gate issue. Send us a message, and we can answer all your gate-related questions!