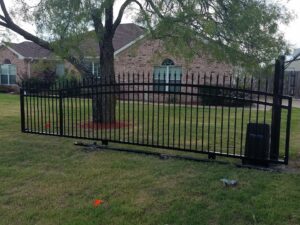 Many households across the United States are stepping up to become as energy-efficient as possible.
Interestingly, the societal drive for sustainability now extends to electromechanical gate openers. Thanks to advancements in standby power reduction techniques, motor technologies, and the inclusion of renewable energy sources, homeowners can boost their energy-efficient practices with electromechanical openers.
Let's explore three key reasons why electromechanical openers are considered excellent energy-efficient alternatives that add to the home's overall sustainability.
Standby Power Reduction
Nothing wastes power quite like standby modes. Otherwise known as vampire power, standby power enables massive leakage that few homeowners know. When typical gate openers are in standby mode, they consume energy unnecessarily.
On the other hand, electromechanical gate openers utilize intelligent control systems that enable them to enter a low-power standby mode when the gate-opening system is not in use. This reduces energy consumption during standby mode, decreasing energy waste and improving overall efficiency.
Moreover, electromechanical gate openers have timers and sensors that automatically shut down power-consuming components, such as heating parts or lights.
Advanced Motor Technology To Minimize Energy Waste
Another key reason electromechanical gate openers are great for energy efficiency is their utilization of advanced motor technologies. Traditional gate openers with outdated motor designs tend to drain energy excessively, leading to higher operating costs and increased carbon emissions.
In contrast, contemporary motor technologies only incorporate highly efficient motors designed to minimize power consumption without compromising performance. These motors employ magnet materials, advanced control algorithms, and minimal friction losses, resulting in efficient power conversion and minimal energy waste.
Integration of Renewable Energy Sources
Next comes a feature many eco-conscious homeowners appreciate: the possibility of integrating renewable energy sources. Many modern electromechanical gate openers offer an eco-mode option, allowing the mechanisms to be powered by renewable energy sources such as solar panels instead of traditional electrical power.
Solar panels use photovoltaic plates to capture sunlight and convert it into electricity. Electromechanical gate openers operate using clean, green, renewable energy, reducing their reliance on fossil fuel-based power and reducing carbon footprints.
4 Sure Gates: The Experts in All-Things Gate
Whether you are thinking of ways to repair your broken gate or are looking to replace it with a new one, you've come to the right place. Besides a selection of great electromechanical openers, at 4 Sure Gates, we also offer a range of gate designs and affordable gate installation services.
If you're in Dallas, Frisco, Plano, Southlake, Arlington, Irving, or Fort Worth, let's talk! We service these areas and do our best to ensure you're fully satisfied with our work.