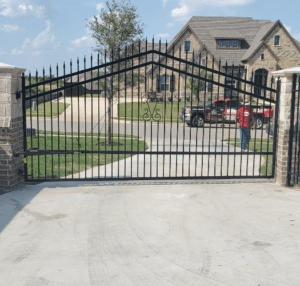 Your home is one of the biggest investments you'll make in your lifetime. The good news is it can provide significant returns when you sell it in the future. For this reason, it's almost always a good idea to spend on upgrades and updates that beautify and add value to your home.
There are multiple ways to boost property value, but installing new gates isn't usually what comes to mind first. Most people look at replacing their roof or improving their home's landscaping to boost its curb appeal. However, investing in a high-quality gate can do wonders for your property. Installing a top-quality driveway gate to your home can increase your home's value in multiple ways!
A Driveway Gate Increases Your Home's Curb Appeal
One of the biggest benefits a high-quality driveway gate can have for your home is increased curb appeal. The way your property looks when viewed from the street can greatly influence its value. According to Realtor.com, residential properties with high curb appeal sell for an average of 7% more than similar homes with less attractive exteriors.
A well-built automatic gate can easily raise your home's value. A stylish gate will easily catch the attention of passersby and potential buyers should you decide to sell your home.
A High-Quality Gate Provides Privacy to Your Home
Your home is the place where you can escape from the world and unwind after a long day. However, it can be hard to let your hair down if your front door can easily be accessed by anyone walking by your house.
A well-placed gate ensures no stranger will easily be able to enter your property. Whether you buy a manual or automatic gate, having a physical barrier between your home and the outside world will provide an extra layer of privacy to let you and your family live peacefully.
Potential buyers also value privacy in properties. Like you, they don't want to worry about strangers walking to the front door without a gate to bar their way.
Gates Add Security for Your Children & Pets
A good gate will give you peace of mind as your kids can roam around your property without fear of them leaving your home or being taken.
This is true for pets as well. While putting trackers on your fur babies will allow you to keep tabs on their location, having a physical barrier that prevents them from wandering off the property and into the street helps keep them safe from vehicles and individuals who may wish to do them harm.
Make Your Home Look More Upscale with a Driveway Gate
If your home is going for a specific feel, the right gate can add that touch of elegance that it's missing. A well-designed gate that complements your home's architectural style and comes with all the bells and whistles can easily make your home look and feel like a million bucks. You can be sure that future buyers will be impressed as well.
Boost Your Property's Value With an Automatic Gate
It might seem like a minor change, but installing the perfect gate on your property can transform its exterior from average to amazing.
If you're looking for the perfect gate to complement your home and add to its value, get in touch with the experts at 4 Sure Gates. We provide top-of-the-line gate products to homes and businesses throughout Dallas and Fort Worth, TX.
Talk to us today to learn more about our services.