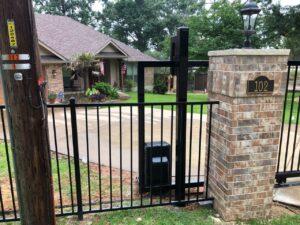 Colors are a very important aspect of every home — inside and out. When it comes to your home exterior, choosing the right gate color can make guests and visitors feel welcome. However, your choice really depends on what message you want to convey.
What colors work, and what colors don't? Do you need to choose from a color chart, or can you base your decision on your outdoor palette? What about matching it to your home's interior colors?
We're answering all of your top gate-color Qs and looking at some of the most classic and in-demand color options.
The Wood Look
A wooden gate gives off a natural and rich appearance. You might want to opt for a stain to accentuate the wood's natural vibes. The stain can keep the wood color as is or can darken it, depending on your wishes.
You can also stain the wood to look like another type, like mahogany or walnut. Another option is to paint the wood, which requires a bit more maintenance.
The Metal Look
Other than wood, many homeowners opt for a metal-colored gate. The metal can be stylized to fit the home's aesthetic and offers more color options than wood. If you opt for a metal gate, you can paint it any color you like.
A Designated Color Palette
The color of your gate can vary depending on your preferences, as many shades work well. Here are some of the most sought-after color options to consider.
Black
Black is one of the most popular gate colors among homeowners. It fits many styles and aesthetics and symbolizes strength, power, elegance, and prestige. If you want your gate to convey this message, opt for a shade of black that goes well with your exterior layout.
Brown
The second most popular gate color is brown. It is a symbol of friendliness, warmth, and reliability. You can opt for a dark or transparent stain if you have a wooden gate for a more natural finish. If you have a metal gate, brown might give it a rusted finish, which achieves a modern and natural look.
Grey
Grey is the perfect option for those who don't want the more robust appearance of black shades. Gray is reliable, enduring, and secure. It works well with all exterior colors and is pretty easy to apply.
Gold
Gold is a bright color fit for an extravagant and luxurious home. It goes great with other darker colors, such as black or green. Gold exudes luxury, so if you're going for that kind of look, add gold details to your gate.
Bronze
Like gold, bronze adds a luxurious but muted look to your exterior. This color also conveys maturity and earthiness and goes well with greenery and wooden elements.
Green
The color of nature and the outdoors and a symbol of freshness, hope, and rebirth, green blends well with almost any landscaping. It's perfect to pair with gold or silver and applies nicely to wood and metal.
Blue
Whilst not the most popular choice, blue shades make your gate stand out. Different hues of blue pair well together with gold, bronze, black, or gray. It's perfect if you want your exterior to send a bold message.
4 Sure Gates: The Ultimate Gate Solution
Choosing the perfect color for your gate is made easy with 4 Sure Gates. Our professional team can revamp your home's exterior and give it a custom appearance — plus, you'll have access to our other services like gate installation, servicing, and repairs.
We can accommodate all your gate-related needs. Contact the 4 Sure Gates Team today to get a free quote and bring your gate back to life!