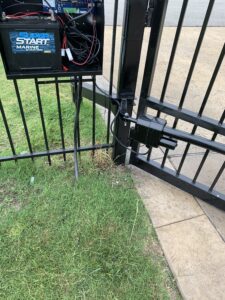 Pew Research findings show that over 2,000 property crimes occurred per 100,000 Americans in 2019. Interestingly, property crimes such as burglary and vehicle theft decreased by 55% between 1993 and 2019.
Security experts attribute this reduction to several factors, including improving economic factors and integrating security features in residential and commercial properties. Gate companies and gate repair services provide various security solutions that meet the average homeowners' demand for high-level security, cost-effectiveness, and flexibility.
A control access system consists of many technological mechanisms that allow homeowners and property owners to control who can get in and out of the property without employing additional personnel. This article highlights some of the most recent control systems that you should consider when upgrading your property's gate or security systems.
Cutting-Edge Access Control Systems
Advancements in technology and supply have expanded applications of some access control systems; even hotels and homes use these control systems. These are the various types of access control systems for residential and commercial properties:
1. Physical Barriers
Barriers, including turnstiles and the Dallas automatic gate, are touted for their efficiency in keeping unwanted visitors outside. Automatic gates use sensors to detect people about to enter or exit; the access control systems allow the gates to automatically open or close by activating their motors. This type can be combined with other access control systems, such as keypads.
2. Access Card Systems
Access card systems involve the use of keycards to get inside the building or house. Many people are familiar with this control system, particularly in hotels. For corporate buildings, keycards are also the preferred method of control systems used to protect access to sensitive data (handled by employees).
3. Licensed Plate Recognition Systems
This kind of system is often utilized in tandem with automatic gates. This access control system features cameras that are adept at reading license plates of vehicles which are authorized for entry.
4. Biometric Systems
Biometrics are popular access control systems because they leverage the unique physical characteristics that people have, including fingerprints. Unlike keycards or keys which can be stolen, you can't replicate or easily forge facial recognition or fingerprints. Biometrics are also used in corporate offices and airport security kiosks.
5. Intercom Systems
These are used by the person who needs to enter and the security personnel. In residential areas, homeowners use the intercom to verify the identity of the person or guest behind the door. Besides verification, intercom systems provide an effective means to discourage unauthorized entry because their physical presence signals property monitoring.
Selecting the Right Access Control System
When it comes to automatic gate repair, consider your personal needs. Do you want a simple access control system to boost the security provided by your gate? Or do you want to deter thieves from entering your small store?
In addition, you must look at access control systems that fit your budget now and long-term costs that cover regular maintenance. If you need further advice for your selection, reach out to 4 Sure Gates. Our Texas-based experts can provide a walkthrough of our vetted access control systems for residential and commercial property owners.