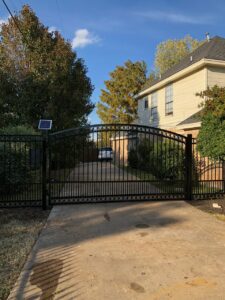 A Crime & Justice Research Alliance study claimed that gated communities are 33% less likely to experience burglary than non-gated communities. What more if it's your house that is gated?
Your home's gate serves as the first line of defense and the welcoming face of your property. It protects your loved ones and assets while reflecting your style and taste. However, wear and tear can take a toll on your gate over time, raising the question: should you repair or replace it altogether?
This blog will help you make an informed decision by exploring both options' costs, the work involved, and the pros and cons.
Gate Repair: What's Involved?
Cost of Gate Repair
The cost of repairing your gate can vary significantly based on several factors, including the type of gate, the extent of damage, and labor costs in your area. Generally, the average gate repair cost in the US is $138, with some high-end repairs reaching $225.
Work Included
Gate repairs typically involve fixing specific issues such as:
Hinge Replacement: Replacing hinges might be necessary if your gate sags or doesn't swing properly.
Welding and Patching: Addressing cracks, rust, or minor structural issues often involve welding and patching.
Painting or Staining: Reviving the gate's aesthetics through painting or staining can be part of the repair process.
Automation Repair: If you have an automated gate, fixing the motor or electrical components may also be required.
Pros of Gate Repair
Cost-Effective: In most cases, repairing your gate is more budget-friendly than replacing it.
Preserves Character: Repairing maintains your gate's original look and character, which can be especially important for vintage or custom designs.
Saves Time: Gate repairs are usually completed faster than total replacements, minimizing inconvenience.
Cons of Gate Repair
Limited Longevity: While repairs can extend the life of your gate, they may not address underlying issues, leading to more frequent maintenance.
Aesthetics: Depending on the extent of damage, repaired areas may not look as pristine as a brand-new gate.
Risk of Ongoing Issues: Repairs may not prevent future problems, and you could spend more on multiple repairs over time.
Gate Replacement: What's Involved?
Cost of Gate Replacement
Depending on materials, size, and complexity, replacing your gate involves higher upfront costs, typically ranging from $1,000 to $6,000 or an average of $4,000.
Work Included
When replacing your gate, the following tasks are typically involved:
Demolition: Removing and disposing of the old gate properly.
Design and Fabrication: Planning and creating a new gate to your specifications.
Installation: Setting up the new gate, including any required automation or electrical work.
Finishing Touches: Adding final touches like painting, staining, or sealing.
Pros of Gate Replacement
Longevity: A new gate will likely come with warranties and a longer lifespan, reducing the need for frequent maintenance.
Customization: You can choose a design that matches your current aesthetic or try something new.
Increased Property Value: A well-designed gate can enhance your property's curb appeal and potentially increase its value.
Cons of Gate Replacement
Higher Cost: The initial replacement cost is substantially higher than repairs.
Time-Consuming: Replacing a gate is a more involved process and can take longer to complete, potentially causing inconvenience.
Loss of Character: If your old gate had sentimental or historical value, replacing it may mean losing a part of your property's history.
Make the Right Choice with 4 Sure Gates
The decision to repair or replace your gate hinges on your circumstances. If your gate has minimal damage, a repair may be more economical. However, if your gate is severely damaged or outdated, or you're looking for a fresh look, replacement might be the better long-term investment.
Whichever option you choose, 4 Sure Gates is here to help you resolve your gate's problem. Our skilled gate repair technicians provide recommendations for malfunctioning automated systems, broken hinges, rusting or termite-infested panels, and damaged trails while considering all your requirements.
Contact us today to book a gate inspection and assessment.