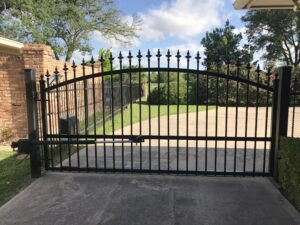 As a homeowner, you probably take great pride in how your home looks both inside and out. Whether you are interested in boosting your house's curb appeal or simply looking to make your home feel more secure, having an ornamental gate is a great option.
Even if you've already decided to install an ornamental gate, it's easy to become overwhelmed with many different design choices. Many styles and materials exist, but we're here to help narrow your options.
Keep reading to see whether ornamental gates are the right pick for you. In addition, we'll suggest many affordable gate designs in Fort Worth, Texas, so stay with us.
If You Appreciate Aesthetics
If you value aesthetics, ornamental gates are the ultimate choice for a visually-appealing exterior. Ornamental gates are manufactured in various styles, using different materials – from classic-looking wrought iron styles to edgier fiberglass models.
You can find ornamental gates in a lot of makes and models, as well as choose from many colors and finishes. Gate ornaments can be fully customizable to suit your taste and the overall look of your home.
If You're Looking to Increase Your Safety
Besides adding to the visual element of your home, ornamental gates are the perfect choice for ensuring the safety of your property. More than just adding curb appeal, ornamental gates are also great if you have small children or pets.
It's an excellent way to safeguard your kids and your property and keep your pets safe to run around. Adding an ornamental gate on your property can be worth every cent regardless of which safety aspects you consider.
If You're After Durability
Ornamental gates are built to practically last a lifetime, so it won't be necessary to think about a replacement anytime soon after installing one. The fact that these gates are made from super durable materials (wrought iron, steel, etc.) makes them an investment you only make once and enjoy for years to come.
If You're Looking to Add Value to Your Home
If you're in the house-flipping business and thinking of ways to add value to the property, installing an ornamental gate can help to solve this problem. Besides boosting the home's security and curb appeal, ornamental gates will increase its value, too.
Apart from house-flippers, homeowners that install ornamental gates add timeless value to their homes and leave a precious inheritance for future generations.
If You Appreciate Low Maintenance
Busy homeowners looking for a combination of curb appeal, security, value, and easy maintenance will get the perfect combo in an ornamental gate. Generally, maintaining a wrought iron gate can easily be done through an annual corrosion check.
If the iron is sprayed over and the paint starts to chip, a simple coat of fresh paint is all it takes to restore its appeal.
Find the Best Gate Designs in Fort Worth Only at 4 Sure Gates!
Congrats! You found the home of the best gate designs in Fort Worth, Texas, We at 4 Sure Gates are proud to offer you affordable gate-opening systems and reliable gate repair services you'll appreciate. Be sure to check out our gate design as well – from commercial to residential gate styles, our designs are customizable, esthetically pleasing, and, most importantly, secure!
Let's get in touch today — we'd love to help you choose your next ornamental gate!