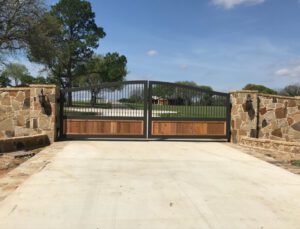 Property crime is the most common crime in the United States, according to the FBI. While you can't control other people's behavior, you can control your property's security.
One way to do this is by installing electronic gates. The simple presence of a gate may deter intruders, but an automatic one has more benefits, such as:
Keeping children and pets on the premises – Automatic gates keep unwanted visitors out and also keep children and pets in. Since pets and children have no manual control of the gate, they can't stray outside accidentally and put themselves at risk.
Making access control convenient – You can grant access to your area with a simple switch.
Contributing to the home's aesthetic appeal – Automatic gates come in various styles that can improve your property's exterior appearance.
Increasing your property value – Having an automatic gate increases curb appeal and impresses potential buyers if you plan on selling.
You can also take your property's defenses further by adding features to your gate.
Security Cameras
Installing cameras is one of the most simple yet effective ways to secure your property. With a security camera and digital video recorder, you can monitor and record suspicious activity. Some systems are even accessible from remote locations, as long as you're connected to the internet.
If a property crime is committed, you can review the footage to find the culprit. It also counts as evidence that you can bring to the authorities to help with the investigation.
Alarm Systems
If intruders find a way to bypass your gate, a good alarm system will come in handy. Different alarm systems are available, but all types alert you when someone trespasses on your premises.
Some product providers may bundle their intruder alarms with other safety systems, such as smoke alarms or carbon monoxide detectors.
Just like security cameras, modern alarm systems allow you to access them remotely through your phone or a website.
Electronic Gates Locks
Consider upgrading your basic lock with an electronic door lock. These locks were designed to replace and improve the traditional lock and key system. They come in different forms like digital cards, PINs, and more. Most of the time, they do not require a physical key for access to be granted.
Electronic locks also provide convenience. For instance, if your gate is unmanned, you don't need to wait for a person to open the gate for you. You can simply input the passcode, and the doors will open.
For additional security, you may assign different codes to people so you can identify who entered or vacated the premises at specific times.
Smartphone Control
Today's technology allows you to integrate your phone into your security system, so you can utilize it even when you're not on the premises.
With remote control access, you can monitor your property anywhere, any time—giving you peace of mind that you still have full control over your property. However, if you see suspicious activity, it's best to call the police or have your security system configured for auto-alerts.
It is also important to note that you can connect your system to multiple devices simultaneously, including tablets, laptops, and smartwatches.
Finding the Right Electronic Gates
The electronic gate suitable for you depends on aspects, such as your layout, accessibility needs, budget, and other unpredictable factors.
Reach out to 4 Sure Gates for expert advice and gate installation. With more than 15 years of experience, we help property owners enhance their home's safety, security, and privacy.