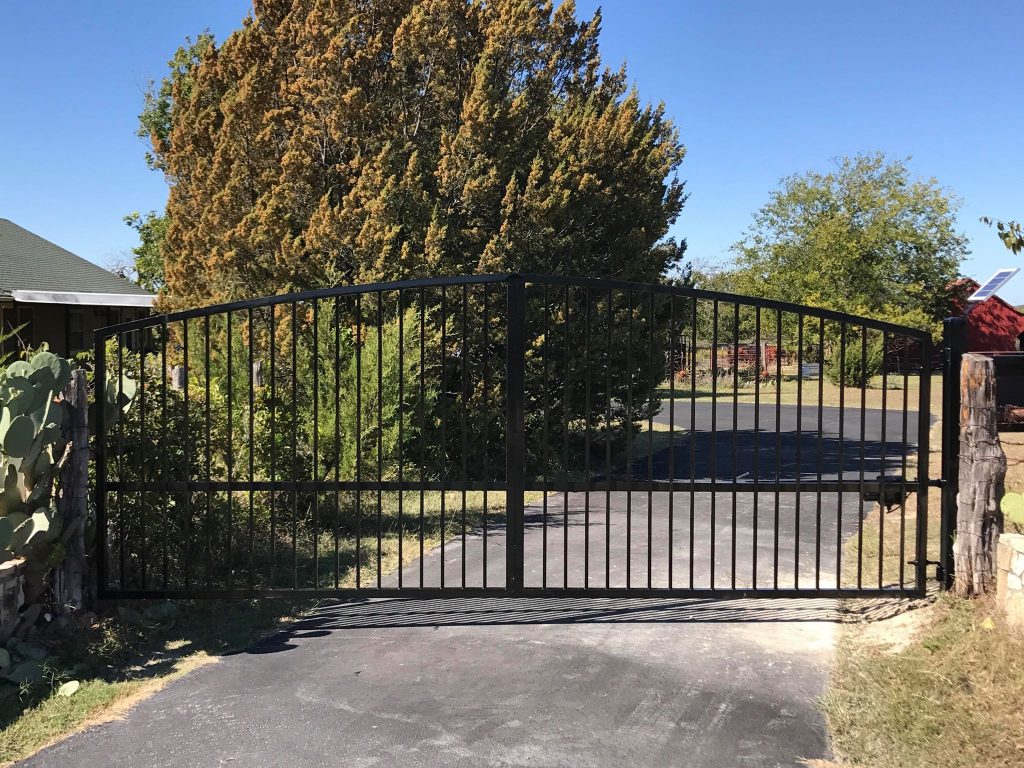 The choice of material affects upfront expenses, future expenses, and the service life of your gate. And because a burglary can cost a homeowner an average of $2,661, it pays to be critical of the materials you choose for home security.
To help you decide, 4 Sure Gates compiled the most popular gate materials for home and business owners in Texas.
Wooden Gates
A perennial favorite, a wooden gate never goes out of style. It complements most properties, but it's best for homeowners who want a rustic and cozy appearance to their property. 
Choose a wooden gate if:
You want a homely feel.

Without a doubt, wood is the most homely-looking material. It's more welcoming than aluminum or wrought iron gate.

You have a specific look in mind.

Wooden gates can be stained or painted in different colors. Whether you want a natural grain or a trendy olive green fence, you can achieve it.

You want to block out the view.

Most wooden gates completely cover the property from prying eyes.
Wood, as with all materials, comes with disadvantages.
Wood is vulnerable to weather.

Wood absorbs water when it rains and expands. Conversely, it dries out and shrinks when it's hot. As a result, the gate's hinges must be strong enough to support the weight fluctuations. 

Wood is prone to rot.

To prevent rotting, wooden gates require periodic maintenance, which is more expensive than other gate materials, like wrought iron. The wood surface needs to be sealed regularly.
Aluminum Gates
Sleek and sophisticated, aluminum is the gate of choice for property owners who love a modern design. It's lightweight, versatile, and easy to shape into whatever design you envision. 
Choose an aluminum gate if:
You want a bespoke appearance.

Unlike wood or wrought iron, aluminum doesn't have a distinct look. As such, it can be formed into any design you imagine. Aluminum ranges from rectangular panels or elaborate security gates. 

You want a gate with minimal maintenance.

Aluminum doesn't absorb water, rot, or rust, unlike other metal gate materials.
Beware of the cons of aluminum gates, too.
Aluminum is not ideal for locations with intense weather.

Because aluminum is lightweight, strong winds and hail can damage the gate.
Aluminum may not be the best for automatic gates.

The vibrations from the gate motor worsen the wear and tear, which may decrease the gate's lifespan.
Wrought Iron Gates
If you want a gate design that's imposing and grand, go for wrought iron. It's the gate material used by old, stately mansions, thanks to its durability and elegance.
Invest in a wrought iron gate installation if:
You want a gate that could last generations.

This is evident in old homes with wrought iron gates still intact. Wrought iron is sturdy enough to last for decades.
You live in an area with intense weather.

If you encounter torrential rains, tough winds, or intense heat, wrought iron gates are your best choice. It stands up to extreme climate conditions.
You want a gate that intruders can't cut through.

Given its density and thickness, it is difficult to tamper or cut through wrought iron.
Tough as it is, wrought iron still has its disadvantages.
Wrought iron doesn't provide much privacy.

Most wrought-iron gates allow outsiders to see through and view your property. 

Wrought iron is more expensive.

Given its durability, wrought iron often carries a heavier price tag than wood and vinyl.
Vinyl Gates
Though not as popular as its wrought iron or wooden counterparts, vinyl is still a trusted material.
Choose vinyl if:
You want an affordable solution.

Vinyl is more affordable than its wrought iron and wooden counterparts.

You want extra privacy.

A vinyl gate can completely block the view, offering you better privacy. 

You want a water-proof gate.

Water slides off the vinyl. As such, these gates resist heavy rainfall.
Vinyl also comes with cons.
Vinyl is vulnerable to temperature changes.

Vinyl expands and contracts as the temperature shifts, so it must be properly reinforced.

Vinyl is vulnerable to harsh weather.

Winds and storms can destroy vinyl gates. Moreover, UV rays can cause the vinyl to fade.
Your choice of fence or gate materials will depend on your budget, aesthetics, preferred maintenance level, and more. 
If you need specialist advice for your new gate, call 4 Sure Gates at (817) 965-7873 or
send us a message
.