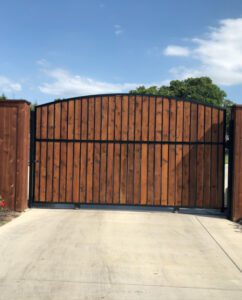 There are roughly 2.5 million cases of burglary in the US per year, and 66% of those are home break-ins.
Installing an automatic gate is one of the most effective ways to protect your home from intruders. While the simple presence of a gate is often enough to deter trespassers, motorized gates take security to the next level by letting you control entry and exit points at the simple touch of a button.
How Do Automatic Gates Work?
Automatic gates commonly rely on a specially designed motor or hydraulic system to operate. Handheld devices such as remotes, intercoms, and access control keypads are used to send signals that will activate the motor. Automatic sliding gates commonly have a single motor, while swing gates have two.
Some automatic gates come with smartphone apps that let you control your gate from a distance or even speak with visitors via an intercom.
Advantages of Installing An Automatic Gate
Automated gates provide the following benefits to both commercial and residential properties:
Security – Automatic gates protect your property from all types of intruders, including vandals, trespassers, and burglars.
Insurance – Some insurance providers offer a discount on premiums if you've taken extra measures, such as installing an automatic gate, to protect your facility.
Convenience – With a motorized gate, all you have to do is push a button for the gates to open and close on their own.
Types of Automatic Gates
Swing Gates
Automatic swing gates feature two doors on each side. Like a traditional hinged door, both automatic gate doors swing in the same direction to permit access. Swing gates can rely on linear screws, hydraulic rams, articulated arms, or concealed underground motors for smooth operation.
Sliding Gates
Sliding or rolling gates are built with wheels on the bottom, allowing them to slide smoothly across the track. They're suitable for uneven ground and sloping driveways.
Sliding gates are known to be one of the most secure gate types. This is because they can be incredibly difficult to force open, and they have fewer vulnerable points than a swing gate.
Vertical Lift Gates
Vertical lift gates are designed to move up and down to allow access. A vertical support tower holds the gates together.
This type of gate is an ideal choice if the terrain is uneven or if there isn't enough space for a slide gate or swing gate installation.
Bi-Folding Gates
Bi-folding gates are composed of two gate panels hinged together. When activated, the panels fold in on themselves, providing ample space for pedestrians and vehicles to enter and exit.
Bi-folding gates are suitable for sites that don't have enough space for a gate to open and close.
Ultimately, the right type of automatic gate for you will depend on your budget, property layout, and accessibility needs.
Maintenance Tips for Your Automatic Gate
Wax your gate regularly to keep it shiny and attractive. Waxing also prevents the finish from flaking off.
Aside from cleaning the outer sections of the gate, maintaining the electrical components is crucial. Watch out for insects that could reside in it or leave behind moisture that could damage the circuit board.
You may have to lubricate some parts of your gate to keep them functional. If moving parts aren't sealed, you'll have to grease the hinges and wheels for optimal performance.
Get Top-Notch Security with 4 Sure Gates!
4 Sure Gates offers custom fabricated gates that can be manual or automated at your request. Our technicians are highly skilled in gate repair and installation and are available around the clock for all your needs.
Contact us for a free estimate.