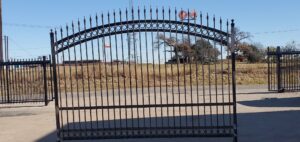 As homeowners face inflation and other economic factors, the trend for house design leans close to small but big-impact home improvements in 2023. Some owners will look into revamping empty and dark nooks in their homes.
Others are literally looking outside, considering if it's time to replace an old, dilapidated gate or add a nonexistent gate. For those looking for a balance between functionality and exterior appeal, here are the top gate designs to spruce up your home in 2023.
Gate Designs to Improve a Home's Aesthetics and Security
Gates help homeowners improve their property's security by providing a physical barrier to unwanted visitors and overstepping neighbors. Over time, gates have evolved to become an integral part of switching to smart homes. Despite this changing focus, the progress toward improved visuals hasn't stopped.
1. Sliding Main Gate: Manual, Motorized, or Grill
Sliding manual gates are great options for houses with limited space. Folding gates would generally consume more space in the front or back part of the gate, but sliding manual gates don't because they roll inside a closeted pocket.
A motorized or automatic sliding gate uses a motor to slide the gate open or close. These gates often feature fabricated grill designs that feature floral patterns, which are assembled through welding (for metal gates).
2. Wrought Iron Gate: Merging Durable With Whimsy
People who want fairytale-like gates consider wrought iron gates for their charming look, especially with vines attached to them. Yet, the main advantage of this type of gate design is its long lifespan. Fully customizable wrought iron gates come with conventional designs, uniquely crafted patterns, and an authentic old-world vibe.
3. Modern Main Gate for Practical Styles
Some homeowners balk at the prospect of modern main gates thinking of flat textures and lacking character. But modern gates are far from bland. Instead, these gates offer opportunities to mix complementing designs, including shapes, motifs, and colors. Modern gates also incorporate outdoor elements, including weather compatibility, enhanced security, and automation.
4. Wooden Gates: Double, Sliding, or Countryside
Complete your cowboy movie-inspired, rustic exteriors with double wooden gates. These kinds of gates allow the wood's character to shine and work well with iron hinges. Sliding wooden gates merge classic wood with modern motion.
But if you have a wider front pace, you can go all out with a farmhouse-style gate. These huge wooden gates are a staple in countryside homes but are just as magnificent in an urban setting. If a full wooden gate isn't appealing to you, consider a half-style that mixes plain wood and grill gate designs.
5. Iron, Wood, or a Combination for No-Peek Gates
For homeowners looking to use gates for increased privacy, solid gates remain the popular choice. There are timber and metal combinations, plank gate designs, as well as iron gates that provide no clear view for any intruder. This gate's size can add a rustic feel or luxurious vibe to your home.
Redefining Entryways & Gate Designs
Nowadays, homeowners don't need to yield with the limited gate design options found in their local home depot or gate shops. Depending on their needs, they can opt for sliding gates, go for the old-world charm of wrought-iron and wooden gates, or elect to install modern or plank gates.
For a more customized approach to gate design, reach out to 15-year experts at 4 Sure Gates. We offer a solid collection of gate designs for manual and automatic applications that fit your desire for secure but functional entryways. Get a free estimate for your customized gates now!