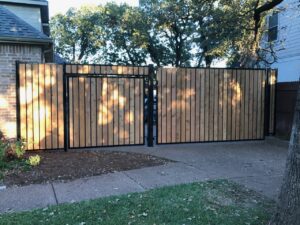 According to Persistence Market Research, electric gates are expected to reach $6.34 billion by 2032, meaning they have become a wise investment. An elegant electric gate can give freshness to your home's curb appeal and enhance the overall decor of your house.
But besides the stylish appeal, electric gates can bring much more value to your home. This article discusses some of the ways in which electric gates add value to your property.
Electric Gate Advantages That Add Value to Your Property
Electric gates' design, installation, and purpose have added considerable value to residential properties over the years regarding their relevant advantages. They are a worthwhile long-term investment in case you decide to sell it.
Let's look at some of the benefits of these innovative gates appliances.
Electric Gates Add to Exterior Aesthetics
Electric gates take up a large part of the front of your property, so installing one can make a great difference in the overall exterior aesthetics. It gives an impression of grandeur and boosts curb appeal. As a result, the house looks more upmarket and attractive, adding value for the potential buyers if you decide to sell or rent the property.
An Electric Gate Enhances Security & Safety
Many people install electric gates for a better feeling of safety within their homes, and that is one aspect of protection. Another point is the safety of kids and pets that these gates offer, adding peace of mind for the owners.
Moreover, you do not have to worry about whether you have closed or locked the door behind you, as electric gates can do it automatically. These simple doors can sometimes give off the feeling of frightening grandeur, thus acting as deterrents.
Electric Gates Provide Greater Privacy
Electric gates are placed at the beginning of your property, so there won't be any unwanted visitors knocking on your front door. This gate provides a higher level of privacy, as you can clearly see who you allow on your premises.
What Factors Affect The Value Your Home Could Be Gaining?
The quality of the workmanship is a significant factor. Electric gates should be adequately installed, made of good material, and in good condition, as these factors are vital in increasing property value.
Various materials are available for gates. Metal is a classic choice because it is durable, stylish, and sturdy. Iron, wood, steel, and glass also offer great value.
Choosing a high-quality electric gate is one of the most important factors affecting property value.
One way to ensure that the electric gate goes well with your property's ambiance, thus boosting its value, is to choose a customized electric gate. It would accommodate the features of your property, giving the whole appearance a unique design and originality.
Get Quality Electric Gate Installation, Repairs, & Maintenance
Electric gates do much more than just make your place look stylish and elegant. It enhances security, adds privacy, and you get to enjoy great convenience! If you are in need of gate services, from designs to installation and maintenance, 4 Sure Gates is at your service!
Our manual and electric gates come in various styles and materials. Contact us today and discuss how we can bring more value to your home!