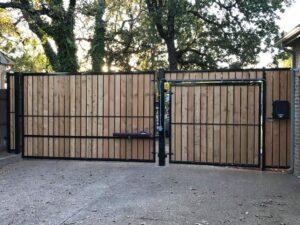 In the United States, a break-in happens every 26 seconds, based on analysis from the FBI and the U.S. Department of Justice. The data, published in an article on The Zebra also reveals that roughly 2.5 million break-ins occur every year, half of which are in residential properties.
One of the first lines of protection from break-ins and burglaries is an automatic or electric gate. Automated gates are easy to control without the need for the homeowner to leave their home. These are also hard to breach by potential intruders because of their material and mechanism.
More people are adding automatic mechanisms to their security systems and gates because of the privacy and convenience these bring. With an electric gate, you can:
Easily control who enters and exits your premises with a switch
Keep pesky and unauthorized vehicles out of your driveway
Improve the aesthetic of your property
Here's a quick rundown of your options for electric gates.
Swing Gates
This type of gate typically has two doors on each side. When opening or closing, it operates a lot like a traditional hinged door. Both doors swing in the same direction.
Swing gates are a popular choice since they're easy to install and operate, highly practical, and durable. However, there are things you need to consider, such as uneven terrain. If the ground is uneven, there may not be enough room for the gates to swing open.
Ample space is also needed for the gates to operate properly.
Sliding Gates
Electronic sliding gates provide a high level of security because of how they're built. They have a rigid structure, are difficult to force open, and have fewer vulnerable points than swing gates.
Since these gates slide in and out, space is less of an issue. All you need is an even surface. This type of gate is also the best choice when the floor is raised inside the premises.
Vertical Lift Gates
Just as its name suggests, this type moves up and down so people can access the area. They are held up by a vertical support tower and use a combination of:
A chain drive mechanism to ensure smooth operation
Counterweights to lessen the burden on the motor, improving its overall lifespan
Vertical lift gates are ideal if your property has limited space and uneven ground.
Bi-Folding Gates
For properties with smaller spaces, bi-folding gates may be the best option. They require less space and consist of two panels hinged together. The panels fold in when they're activated, providing enough room for people or vehicles to pass.
Bi-folding gates operate rather fast, but extra steps must be taken to ensure the surroundings are safe due to the gate's many entrapment points.
This type of gate is apt for places where access is permitted for a limited time and has continual vehicle traffic, such as banks, schools, and staff car parks.
Finding the Right Gate
The electronic gate suitable for you depends on aspects, such as your layout, accessibility needs, budget, and other unpredictable factors.
Reach out to 4 Sure Gates for expert advice and gate installation. With more than 15 years of experience, we help property owners enhance their home's safety, security, and privacy.