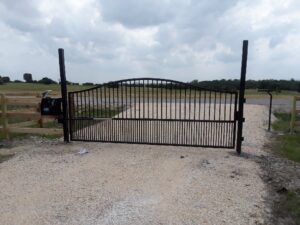 Viking Access Systems has led the gate operator industry leader for decades. As one of the top-shelf gate openers on the market, Viking offers its clients a feeling of security and reliability.
Both driveway and entry gates must adhere to specific criteria to ensure the product's safety and usability. Viking's access system mechanisms apply to many types of gates, with particular distinctions depending on the style, design, or material.
If you already own a Viking Access System, you probably already know why it's a top-rated product. But if you're in the market for a new gate operator or want to learn more, keep reading!
The Basics of Viking Access Systems
A market leader that stays on top of the demand, Viking offers its customers a superb line of gate openers for slide gates, swing gates, or barrier arm gates that are essential to many residential and commercial establishments.
Viking's gate openers are characterized by top-shelf power sources and can power gates of different sizes, lengths, and weights. Plus, they have a variety of cutting-edge access control devices and accessories.
Every Viking security system comes with a rock-solid warranty, ensuring you get the most out of your purchase.
The Technicalities of Viking's Access Systems
Viking access systems ensure state-of-the-art functionality and reliability for any type of gate, regardless of width, weight, length, or material.
The technical aspects of Viking's access systems include the following:
Full UL325 and UL991 compliance
Soft start and stop mechanism
Intelligent blockage sensors
Regarding the operational aspect of their access systems, Viking's developers and engineers used adaptive and self-learning algorithms that adjust to the specifications of the gate. Their systems also use high-grade security features like hardware and software, short-circuit prevention, and lightning-proof traits.
Who Should Use Viking Access Systems?
An access system is recommended for every household with a gate. But business owners can also benefit from access systems on their property.
Viking's access systems are an unmatched choice for homeowners, communities, builders, and architects. Thanks to its user-centered approach, Viking's products are not difficult to operate and are pretty much self-tending in terms of adaptability.
Furthermore, you can download the Viking app and control your gate from anywhere — 100% remote, wireless, and safe!
Have 4 Sure Gates Install Your Gate Access System
At 4 Sure Gates, we know the ins and out of everything gate-related. Need a gate installed? Need to have your gate repaired? We have you covered!
You'll have tons of gate designs to choose from, and we offer top-notch access systems at affordable prices. With over 15 years of experience, our team of licensed gate contractors is at your service.
Reach out to our team today, and get a free estimate for your new gate project.