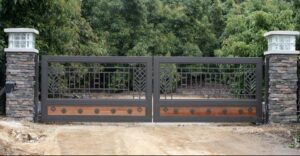 Around 38% of Americans were using home security services in 2021. In recent years, the crime rate on properties in Texas has increased, so implementing security systems has become imperative for Texans. A crucial part of these systems is the automatic gates.
These gates have many mechanical parts, some of which have a relatively short life span. In other words, if you want your security to always be at the top of its game, you'll need to replace some of the mechanical parts of your gate frequently.
This article will cover all the essential components you need to keep an eye on.
Security Sensors for Your Automatic Gate
Automatic gates usually have several kinds of sensors. Since these are all electricity-powered, they're sure to expire sooner or later, as most of them are automatically turned on almost daily. Defective sensors can be unsafe and may even cause gate failures.
One sensor you especially need to monitor is the one that detects and notifies you of intruders. Other types of sensors include safety sensors, which ensure your gate won't close too late or too early, and light sensors, which can get clogged by dust, insects, and other debris.
Automatic Gate Overall Power Supply
Another essential aspect of your security gate system is the overall power supply. After all, the whole gate is automatic and electronic, so the loss of power supply, for any reason, will prevent it from doing its job properly. Moreover, it won't be able to open – leaving you stuck outside or inside.
Check if there's some issue with the circuit breakers or intercom, and try to fix it manually if it's just a minor issue. For major problems, it's best to get professional help immediately.
Your Gate Tracks
Tracks are constantly exposed to motion and pressure due to the gates sliding over and through them multiple times per day. As a result, they can be especially vulnerable to damage. Not only can they gather dust and debris, obstructing the gate's movement, but they can also get dented or damaged, which would warrant hasty replacement.
Gate Remote Controls & Keypads
Whether you primarily use a keypad or remote control to open and close the gates, these little gadgets rely on batteries. So, they are bound to either need replenishment or proper replacement sooner or later. Consider changing the unlocking code regularly to reduce the risk of intrusions.
Automatic Gate Hinges
Hinges are essential in the opening and closing of gates. They hold the gate and facilitate easy movement.  Keep a close eye on your gate hinges and call a professional if they get damaged, rusty, or loose.
Rely on a Professional Gate Repair Service Like 4 Sure Gates!
Texans in need of security gate services anywhere in Dallas, Fort Worth, Southlake, Grapevine, Arlington, and the vicinity, don't need to worry, as 4 Sure Gates is always here to help. We are a team of professionals offering quality gate repair services at incredibly affordable prices, and we cover both physical and electronic malfunctions.
Contact us as soon as you notice something wrong with your security gate, and we'll help you solve it in no time.