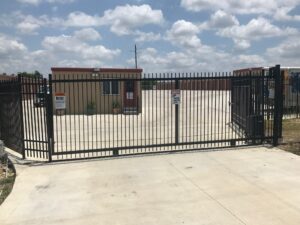 When installing a gate for your residential or business property, there are several considerations you should pay heed to. Knowing exactly what you're looking for can make all the difference when choosing.
Both swing gates and slide gates have found their place in households, whether they're made of steel (as one of the best resilient materials), wood, or wrought iron. In essence, the type of gate you choose mainly depends on what you're looking for: convenience, security, curb appeal, and so on.
In this article, we'll focus more on the security features of both gate types and discuss the overall benefits of each gate style.
Swing Gates
In general, there are two types of swing gates: double-swing gates and single-swing gates. As per the client's purchasing habits, they tend to favor single-swing gates since they are more affordable compared to the double-swing variant of swing gates.
A single-swing gate will operate by a single automatic opener and half the amount of hinges and bolts as opposed to double-swing gates. In this context, single-swing gates are less convenient for space considerations, whereas double-swing gates need significantly less swinging space.
In terms of security and safety, swing gates can be more easily forced open, especially double-swing gates. Single-swing gates, on the other hand, are harder to penetrate mainly because they're made of a single, massive plate stretching from one post to another, minimizing security breaches.
Now, let's shortlist the overall benefits of swing gates:
Might not need steel or concrete work to install
Swing gates add value to homes
Can be opened from the outside or inside
Affordable
Easy to maintain
Slide Gates
On the other hand, we have slide gates as the other popular option for safeguarding properties, both residential and commercial. Slide gates make an excellent choice for small and constrained spaces since they won't swing open but rather slide inward.
Slide gates are the go-to option for parking lots or garages, allowing for more parking space. They can be manufactured in a variety of materials and finishes, offering a nice curb appeal to any residential property.
In terms of security, slide gates are more reliable than swing gates, minimizing the chances of being forced open. Once you close and lock a slide gate, it becomes fixed on the post holding the structure, so there are basically zero chances of protrusion.
As opposed to swing gates, slide gates are wind-resistant, so there's no chance of accidental openings. These will fit amazingly in large driveways.
In a nutshell, slide gates come with more benefits than swing gates, some of which include the following:
Amazingly secure
Resistant to weather conditions and other external influences
Fewer space requirements
Easy to maintain
Can be installed on unlevelled driveways
Only one motor operator required
So, Which One is Better in Terms of Security?
If you are concerned about security, slide gates should be your pick. Slide gates are more difficult (practically impossible) to force open. As opposed to slide gates, swing gates won't prove as resilient in the event of extreme wind or heavy blows to the gate.
Ultimately, how much you're willing to invest in your gate will determine its sturdiness and security – good materials make all the difference.
4 Sure Gates: A Leading Gate Company in Dallas You Can Trust
For some, space constraints, maintenance, reliability, affordability, and gate control methods are decisive choices for gate installations. Whatever your preference is, you'll find a compatible solution at 4 Sure Gates!
From gate designs to gate repairs, we offer everything your gate needs, and we're affordable, too. 
Let's get in touch, today!