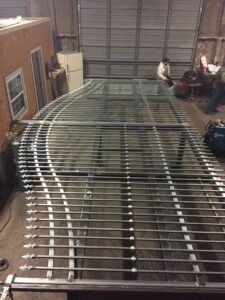 The market for security and surveillance technology was estimated to exceed $172 billion in 2022, up from $150 billion in 2021. Due to the increasing demand for heightened security for commercial and residential properties, gate suppliers are also optimizing their products for maximum protection.
Underground gate operators can also be a fantastic solution for homeowners looking to improve the security of their residential properties. The sophisticated systems have several advantages over traditional above-ground gate operators, including improved safety, durability, and aesthetics.
Below, you can learn more about the benefits of underground gate operators and how they can improve the security and functionality of your residential property.
Investing in Underground Gate Operators: Is It Worth Investing?
If you want to fuse functionality and aesthetics in your property's gate system, this article is for you. Let's find out more!
Aesthetically Pleasing and Discreet Noise Reduction
If the appearance of your property is important to you, underground operators should be your first choice. Unlike other types of gate automation, these operators are visible by their cover plates, which are inset into the ground.
Also, traditional above-ground operators produce a loud noise when opening and closing the gate, while underground operators are virtually silent, thanks to their sophisticated motors and mechanisms. So, the subtle effect of underground gate operators is ideal in terms of aesthetics.
Space-Saving Design
Underground gate operators don't require a significant amount of space to operate since these systems are installed beneath the driveway. This can be particularly useful if you have limited space on your property or want to maintain an uncluttered appearance.
Ease of Installation
Underground gate operators require minimal excavation and disruption to the surrounding landscape.
Professionals from reputable companies will measure and choose the best solution for your property. Then, they will complete the field work and installations, which include connecting the gate motor, control board, and safety accessories. You'll get minimal construction work on your property and will preserve the existing landscaping or hardscaping features.
Increased Property Value
Underground gate openers on driveway gates instantly improve your house's appeal, regardless of its stature and size. Since they're relatively rare and sophisticated, they can add a luxurious touch to a property, making it stand out.
And people are really drawn to the luxury and convenience of automatic gates! These systems provide a high level of security, which can be appealing to potential buyers. So, they're also an excellent way to bump up the value of your property if you're planning to sell.
Maintenance Requirements
First, it is recommended to buy the system from a renowned manufacturer. A high-quality underground gate system rarely fails and, if properly maintained by experienced gate repair and installation technicians, can last for decades.
To preserve the appearance and functionality of the system, you should clean it regularly. This includes removing debris from the track, wiping down the control panel, and cleaning the sensors.
4 Sure Gates: Your Premier Gate Installers in Fort Worth & Dallas
When opting for underground gate operators, it's important to consider the security and convenience your selected supplier offers.
4 Sure Gates has been Dallas and Fort Worth's premier gate contractor for over 15 years. Our decade-long knowledge and practice help us understand and meet our client's needs in gate products and technology.
Underground gate operators are an excellent investment if you want to protect your home. Contact us today for all things gate-related and to get a free quote or schedule an installation!