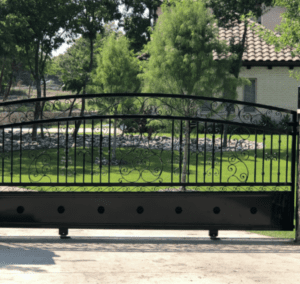 From increasing curb appeal to adding a touch of sophistication, gates can boost your property's value in a number of ways. Experts believe that adding a gate to your home can increase its value by more than $50,000, depending on the type that you install.
If you're in the market for a new gate, there are a few things you'll want to keep in mind, including the type, material used, your budget, and style preferences.
Choosing the right automatic gate can be a daunting task, but if you keep these factors in mind, you'll find the perfect gate for your home.
Style of Automatic Gate
There are a variety of different gate types to choose from, each with its own set of benefits. If you're looking for security, a closed gate might be the best option for you. If you're looking for easy access to your property, a swinging gate might be the right choice.
Here are other notable aspects of each gate type:
Swing Gates: Swing gates open outwards and are a great option if you have a lot of space available.
Sliding Gates: Sliding gates open sideways and are a good choice if you don't have much space available.
Material of Automatic Gate
The material of your gate will determine its durability and how well it weathers the elements. Choose a material that is resistant to rust, decay, and insect damage.
Some popular gate materials are:
Metal Gates: Metal gates are strong and durable and are a good choice if you live in a high-traffic area.
Wood Gates: Wood gates are beautiful and traditional, but they require more maintenance than metal or vinyl gates.
Vinyl Gates: Vinyl gates are the most affordable option, and they require very little maintenance.
Size & Shape of Gate
The size and shape of the gate will depend on the size and shape of your driveway. If you have a curved driveway, you'll need a curved gate. If you have a long driveway, you may want to consider a double or even triple gate.
Purpose of Automatic Gate
The purpose of the gate will also dictate which type of gate you choose. If you need a gate for security purposes, you'll want to choose a metal or vinyl gate with a locking system. If you need a gate for privacy, you'll want to choose a wood or vinyl gate that can be closed completely.
Size of Your Property
It's critical to consider the size of your home and the amount of space you'll dedicate to the main gate. A sliding gate, for example, is ideal for a little area, whereas swinging gates need more room.
Before starting, measure the area to ensure that you obtain an accurately sized gate. This will help you move or slide your gate without any problems.
Weather Resistance of Your Gate
It's also important to consider the weather resistance of the gate. Wood gates, for example, are not as weather-resistant as vinyl gates. If you live in an area with severe weather conditions, you'll want to choose a gate that can withstand the weather.
Maintenance for Your Automatic Gate
Finally, you'll need to consider the amount of maintenance your gate will require. Wood gates require more maintenance than metal or vinyl gates, but they look beautiful. Vinyl gates are the most durable and low-maintenance option.
Your Dream Gate Is Just a Call Away!
Is your gate giving you trouble? We can help! 4 Sure Gates offers a wide range of custom-made gates, which may be operated manually or automatically to meet your specific needs. We provide a comprehensive selection of gate operators, including manual, electric, and automatic – and we can install, repair, or replace almost any model!
Let 4 Sure Gates take care of everything for you to enjoy the benefits of a properly working gate. Reach out to us today to get a free estimate.