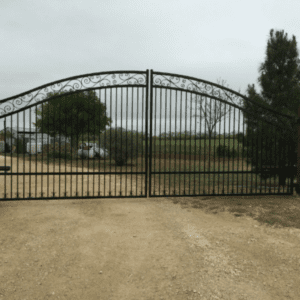 Gone are the days when locking the doors at night wasn't a priority. Unfortunately, recent years have seen an increase in property crimes all over Texas.
According to the Texas Department of Public Safety, burglaries accounted for almost 16.4% of all property offenses, larceny-theft accounted for 72.4%, and motorcycle theft, 11.2%.
So what can you do to protect your property? One of the best ways to keep your home safe is to install a gate system. This blog discusses the different features and elements of a secure system.
Strong Foundational Structure
The first and most crucial element of a gate system is the foundation. The structure needs to withstand the gate's weight and any force pushing against it. Otherwise, it could easily be knocked over, toppled, or damaged by intruders or inclement weather conditions.
Advanced Locking Mechanism
A locking mechanism is essential to keep unwanted people out of your property. The lock should be sturdy and difficult to tamper with. It's also important that the key or code is not easily accessible to others.
Remote Control Systems
Remote access is necessary when you're not at home or can't get to the gate. With the push of a button, you can open, push, pull, or lift your gate from anywhere.
Remote-controlled gates are a superior option over traditional automated systems, which still utilize a fixed lock system. This system raises security concerns at night because homeowners have to leave their vehicles to access the gate panel.
Sensors & Alarm Systems
Burglars are becoming more and more sophisticated with their methods, so it's essential to have a sensor system that detects any movement near the gate.
You can opt for a loud, blaring system with flashing LED lights to scare the intruders or a silent alarm that prompts you and your security company of an unauthorized entry.
Height & Width
The height and width of the gate are also important factors to consider. The gate should be tall enough to deter intruders from scaling it, and the width should be large enough so that no one can squeeze through.
Additionally, you'll want to make sure there is plenty of room for traffic to go in and out without having to stop, leave your car, and open the gate. Gates that are too narrow or too short can cause traffic congestion and delays.
Weatherproofing
Your gate system must be weatherproof so that it can withstand harsh elements. The gate and all components should be rust-resistant and able to weather high winds, rain, and snow.
Elevate Your Home's Security with a Premier Gate System
If you're looking for a gate system that meets all of these requirements, give us a call! 4 Sure Gates specializes in secure gate systems and would be happy to help you choose the right one for your property.
We offer a wide variety of gates, from basic to luxury, so that you can find the perfect solution for your home. Our team is available 24/7 to answer any questions or help with any issues. So don't wait – call us today for a free consultation and estimate.