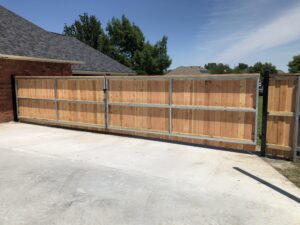 Deciding to install a driveway gate depends on a homeowner's perception of security and privacy. They might opt out of adding gates if they think they are in a relatively safe neighborhood.
Folks living in mega-sized cities (with high crime rates) would use gates, fences, and other physical barriers available to boost their security. Either way, homeowners must avoid leaving their safety to chance.
Installing driveway gates can help deter unauthorized access and unwanted visitors. But besides being a security feature, driveway gates add curb appeal and may even increase a home's overall value. We've highlighted below the main factors to consider when installing driveway gates.
1. Gate Materials
Your gate material can impact your budget and maintenance. A driveway gate may be fabricated from wrought iron, wood or timber, and steel. Of these choices, wood is one of the most affordable options. Furthermore, wood and timber gates are great for complementing its landscape.
However, wood is the most demanding when it comes to maintenance. Wood gates can rot, crack, discolor, and suffer pest infestation. Unless your property is located in a place with few pests and mild temperatures, there are better choices than wood for your gate.
Stainless steel is an excellent option over ordinary steel or wrought iron because it is rust-resistant. However, if you find wrought iron gates a bit more charming, expect to do regular repainting to protect them from rusting.
2. Gate Design
Your choice of gate style depends largely on which style works best on the available space around your gate. Case in point: despite the bigger space, large properties do not use swinging gates because they're heavier. Instead, these properties use a sliding driveway gate that uses wheels or a rolling track to open or close.
Sliding gates offer a contemporary aesthetic and are perfect options for homes with limited residential or commercial space. However, they are less affordable than swing gates. A swing gate provides homeowners with versatile options, including single-swing and double-swing gates. While single-swing gates look simple, double swings provide a more dramatic look.
3. Automation
Automated gates offer convenience and security, allowing you to control access to your property with ease. When considering automation for your driveway gate, there are several factors to consider, such as the type of automation you need, the power source required, and the level of security you want.
4 Sure Gates can help you choose the right automation options for your needs and ensure that the gate's motor and electrical systems are properly installed and integrated with your home's power supply. Trust us to help you enjoy the benefits of automated gate access while ensuring that the system is installed safely and correctly.
4. Local Regulations
There may be certain requirements for the gate's height, placement, or even the type of material that can be used. Failure to comply with local regulations can result in fines or other penalties, so it's important to make sure you're following all the rules.
A professional installer like 4 Sure Gates can help you navigate local regulations in Dallas, Fort Worth, Plano, and surrounding areas in Texas, and ensure that your gate installation is up to code.
5. Budget
Lastly, consider how much you are willing to pay for the gate, including the material and labor costs. The cost of a driveway gate can vary greatly depending on the material, size, and features, so prepare your budget beforehand.
Keep in mind that the initial cost of installation is just one part of the total cost, as ongoing maintenance and repairs should also be factored into your budget.
Contact 4 Sure Gates for Reliable Gate Installation
For free estimates, talk to experts from 4 Sure Gates. We offer a wide range of materials, styles, and automation options to choose from, ensuring that you find the perfect gate for your home or business.
Connect with us today to learn more and start your gate installation project.