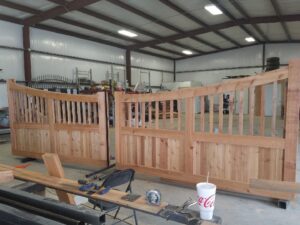 Automatic gates are a great investment for any home or property. They can significantly improve security with controlled access to your property and can add value to your home. However, the benefits of having an automatic driveway gate go beyond function. They also provide a stylish fixture at your property's entrance.
However, over time, your gate will begin to deteriorate, like anything else that must weather the outdoors. Luckily, there are many things you can do to upgrade your automatic gate after it has been installed, giving you a better working gate for a more extended period of time.
In this 4 Sure Gates Blog, we're discussing four easy ways to upgrade your automatic gate! Keep reading to learn our top tips.
Keep it Well Lubricated
Experts recommend you lubricate the moving parts of your automatic gate every six to ten months, but it's a good idea to add this into your outdoor routine. A well-lubricated gate opens and closes more smoothly and easily, effectively reducing wear and tear, and helping your gate last longer. Lubrication is a simple maintenance practice that really makes a big difference.
There aren't many parts that require lubrication — the parts you should focus on are your gate's pulley, chain, hinges, and screws. Add a drop of lubricant every month or so to keep it running smoothly.
Back-Up Battery
If you own an automatic gate, you know that there are few things more frustrating than trying to deal with an automatic gate during a power outage. If you live in an area where you experience regular outages, we recommend investing in a backup battery.
With a back-up battery, your gate will continue to operate in a power outage, and most spare batteries hold enough charge to support a few dozen open-close cycles. You probably won't need to open or close your gate this many times while the power is out, but it's also handy to have in case your usual battery loses its charge.
High-Speed Motor
Though they are a relatively new addition to the gate supply market, high-speed motors can significantly improve the efficiency of your gate, making closing and opening much faster.
If you notice that your gate takes a long time to open and close, a high-speed motor can be especially beneficial. A slow-moving gate isn't just a nuisance, but a possible security risk, as the longer the gate stays open, the more exposed your property is.
Internal Gate Controls
Most automatic gate control systems come with an internal gate control, which allows users to control their gate from inside their home. This not only makes it easier to control the gate remotely but also allows those who have cameras at the entrance to see what's going on from the comfort of their home.
For instance, if you were to upgrade your access control system to include a touchscreen keypad with a camera, you would be able to adjust the touchscreen settings, including what screen visitors will see. You can also set timers for specific days and times that allow for simple access control, and get notifications if the system experiences any issues.
The Automatic Driveway Gate Experts
For top-notch automatic gates for your home or business, 4 Sure Gates is the top choice for DFW and the surrounding area. We take pride in our work and our prices, providing only the best gate installation and repair services at an affordable cost. 
Whether you're looking to install a new gate or service an old one, get in touch with the experts at 4 Sure Gates!